Valuence Technologies Launches Internal Help Desk Management System for Slack and Teams Release of GA Version of helpmeee! KEIKO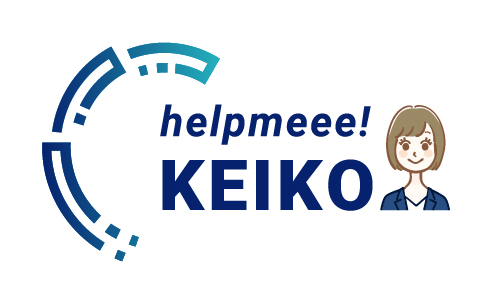 24/7/365 Support for Help Desk Operations Based on Trained AI Chatbots and Ticket Management
Valuence Technologies Inc. (Tokyo; Ryoji Fukaya, representative director and president) leverages technology and its capacity to make proposals to encourage every person in the world to live true to yourself. The company has announced the September 1 release of helpmeee! KEIKO, an internal IT helpdesk operations platform that uses a trained AI chatbot and ticket management specialized for IT support departments.
Background to Service Launch
Valuence Technologies provides consulting services specializing in IT departments. The company possesses advanced technological capabilities in the fields of AI and systems development.
In the course of the company's consulting services for IT departments, staff often heard complaints about IT departments struggling with being too busy in help desk operations (non-core services), despite the desire to focus on the core business* of their companies.
(*Core business: Adopting SaaS and cloud computing to guide the direction of a company and grow business operations, after determining why such systems are necessary.)
Recognizing the need for a solution to address fundamental issues based on feedback received on a daily basis, Valuence Technologies combined its strengths in information systems expertise, advanced AI technologies, and systems development to provide this new service.
Initially, the service was limited to chatbot functionality. However, the company added ticket management functions during the development phase in response to the stated needs of IT departments. Valuence Technologies will continue to provide solutions in the area of information systems.
he Urgent Need for DX Amid IT Human Resources Shortages
According to the 2019 Survey on IT Human Resources Supply and Demand published by the Ministry of Economy, Trade and Industry, shortages of IT professionals in Japan is projected to amount to 260,000 in 2019; 300,000 in 2020; 320,000 in 2022; 360,000 in 2025; and 440,000 in 2030. (Major estimate of IT human resources supply and demand (2): Medium)
Source: Survey on IT Human Resources Supply and Demand, Ministry of Economy, Trade and Industry(
https://www.meti.go.jp/policy/it_policy/jinzai/houkokusyo.pdf
)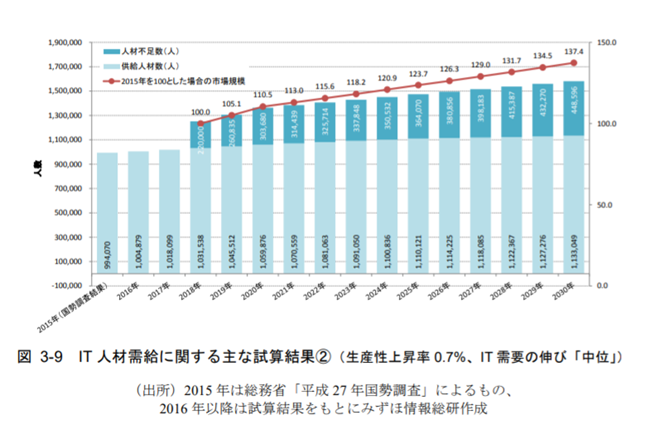 Training or reallocating IT professionals will be an imperative in overcoming these projected shortages and accelerating the progress of corporate activities.
In reality, however, per-employee education and training costs for manufacturing and non-manufacturing industries amount to 30,000 yen for manufacturers and 37,500 yen for non-manufacturers. This level of investment is by far the lowest when compared to Europe and the United States.
Source: Status of IT Human Resource Development, Ministry of Economy, Trade and Industry (
https://www.meti.go.jp/shingikai/economy/daiyoji_sangyo_skill/pdf/001_s03_00.pdf
)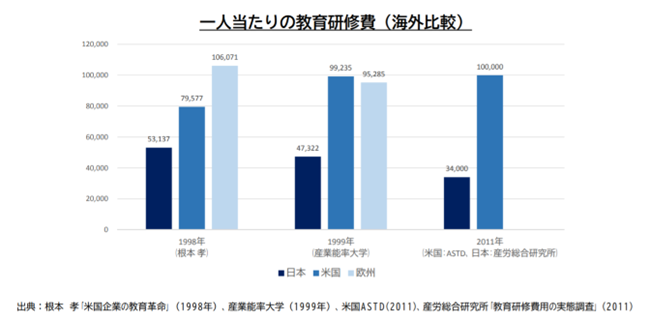 A Brief Overview of the helpmeee! KEIKO SaaS for IT
【ポイント】
① No coding required; simply add the chatbot to Slack, Teams, etc., (*current compatibility)
No coding knowledge is required for implementation. IT departments can use the service simply by installing the app on Teams, etc. Installation is as fast as one day to make the chatbot available for use. More than 1,000 pre-populated Q&A segments for IT departments are available at the time of purchase. Even companies with no formal internal rules can begin using the service immediately.
Help desk inquiries can be made open channel with questions asked and answered in a public room. This allows employees to view other postings and facilitates self-help (Slack version only). Inquiries via DM through the app are also supported, so employees may make inquiries in a more discreet manner.
Q&A segments can be edited to change or add a company's own internal rules. Valuence Technologies staff help with system adoption and support at the time of purchase.
② Centralized Internal Helpdesk Management Screen
Internal inquiries sent via Slack or Teams can be managed as tickets between different teams. All inquiries can be centralized, so operations from ticket receipt management to resolution can be completed on a single management screen. This feature prevents missing tickets, such as forgotten assignments or tickets awaiting a response.
③ Direct Support From Valuence Technologies, Even for Customers in the Process of Developing Their Own IT Staff
This system can be used effectively, even if the customer is not an IT professional or is still in training. And Valuence Technologies staff can provided human-based response support for inquiries that cannot be handled by a customer's IT staff or AI chatbots. Using this human-based helpdesk service helps customers reduce helpdesk volume required of the chatbot, as well resolve highly specialized or critical help issues.
Keita Kido, Executive Officer, Valuence Technologies Inc.
"Internal helpdesk operations are an indispensable part of IT. Speed is always required from the time an inquiry is received to the time it is resolved. Other employees view the helpdesk as an "oracle" to seek answers to their problems. Therefore, employees have high expectations of helpdesk services, and helpdesk quality must not disappoint. Information system operations also involve other upstream operations, including IT planning and IT controls.
helpmeee! KEIKO automates helpdesk responses and filters only critical questions to be handled by a human-based operator. This means speedy resolutions for employees, and requires the time of IT professionals only when a critical inquiry must be addressed. In this way, IT professionals can focus more on upstream processes. In the future, Valuence Technologies plans to expand the functionality of the system to include ticket management based on inquiry logs and content, as well as category sorting based on inquiry type. In so doing, we believe we will contribute to increased productivity for IT administrators."
■ Service Overview
Service name: helpmeee! KEIKO
Service start date: September 1, 2022
Link to Service:
https://helpmeee.jp/
Scope: Customers in Japan
Inquiries: helpmeeejo-shisu.vt@valuence.inc (Hosoda or Tokoi)