Sustainability
The Valuence Group operates its business with the aim of realizing its mission, "Encouraging people to live true to themselves". Our main business, "Resale", plays a critical role of transition to circular economy, where we help customers to avoid disposing and connect them to someone in need. Today we are facing the biggest challenges such as climate change, inequality, infectious diseases. We cannot achieve our mission and grow our business without addressing these issues.
We will continuously commit to these challenges through our business in order to make our world more sustainable.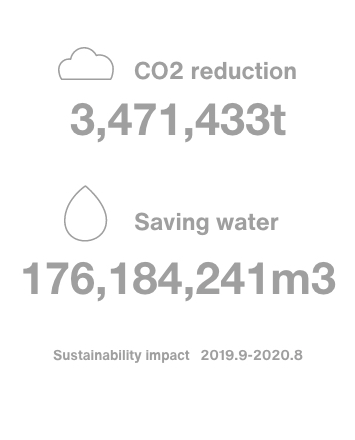 Materiality identification process
Valuence Group have identified 18 ESG issues related to our business and positioned them on our Materiality Matrix. We select issues through the following steps.
Step 1: Identification of candidate themes
The Valuence Group analyzed the expectations and requests from our valued stakeholders including customers, business partners, employees, shareholders, investors, public institutions. By reflecting these stakeholders' expectations and also taking into consideration our own internal analysis, GRI standards, SASB and major ESG evaluations, we have selected candidate themes to be focused on.
Step 2: Prioritization
Priority was rated to those themes as ESG issues from the perspectives of "importance of the Valuence's business" considering the financial impact and our corporate philosophy, and "importance of stakeholders" which reflects expectations from GRI standards, SASB standards and major ESG evaluations. As a result, 18 ESG issues were positioned on our Materiality Matrix. Taskforce on prioritization were gathered from managers of each department.
Step3. Validation
Our board of directors reviewed and validated 18 ESG issues and Materiality Matrix.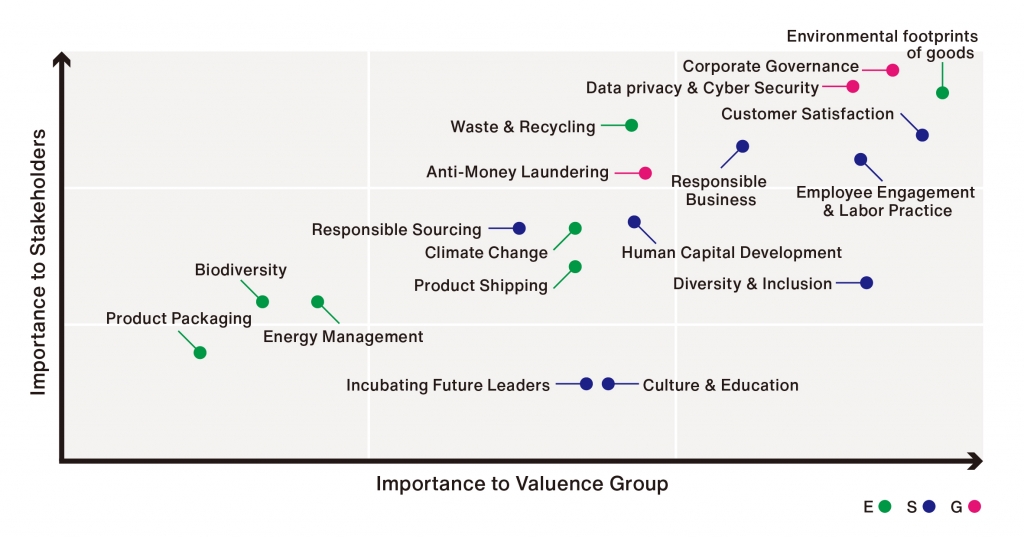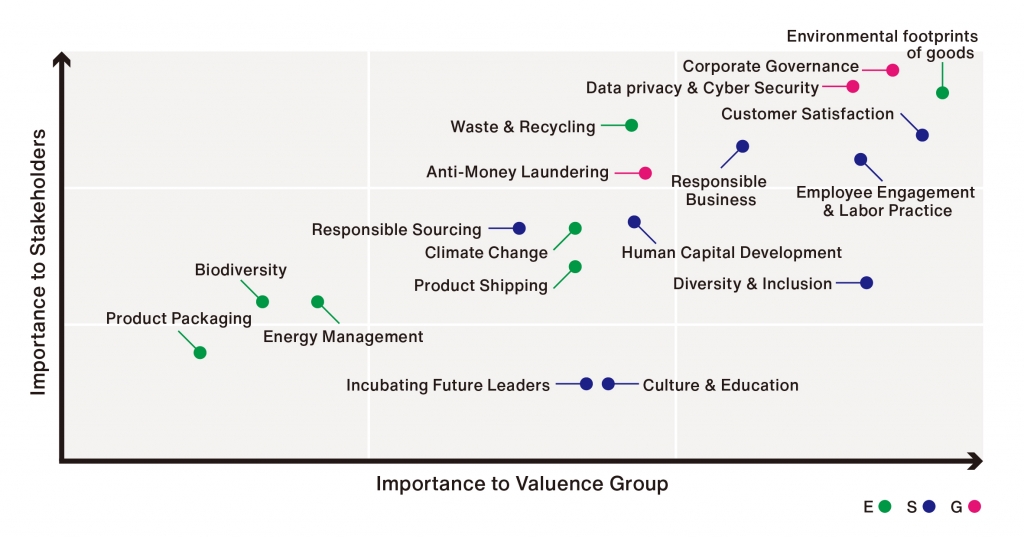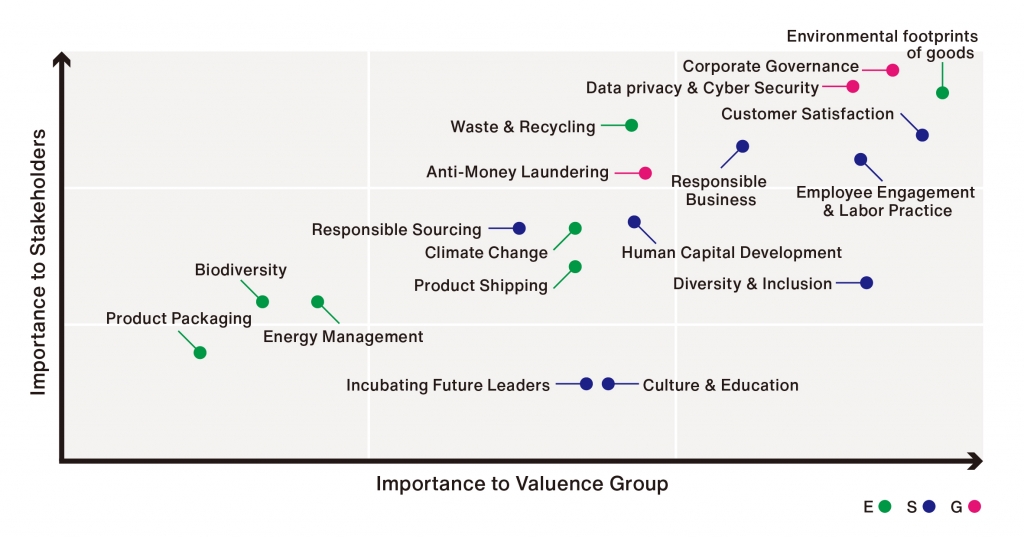 LCA
Measuring the contribution of the luxury resale business to reducing its environmental footprint through LCA
The luxury goods industry is a timeless industry that provides people with affluence, whilst it is also facing challenges such as the procurement of raw materials and the disposal of overproduced goods. There is an urgent need to shift to circular economy around the world, we regarded as the most material issue for us. In this context, the Valuence Group, whose core business is luxury resale, which extends the life of luxury goods so that more people can enjoy their value, did LCA (Life Cycle Assessment *1). We measured the gap between the environmental footprint (*2) of the traditional linear economy model and that of resale circular model, which illustrates how much we can contribute to reducing the environmental footprint. We developed our own "Valuence Resale Impact Calculator" and measure the contribution to the reduction of CO2 emissions, water consumption, energy consumption, and PM2.5 emissions from luxury resale related business activities in fiscal 2019.

*1 Life Cycle Assessment (LCA): A method to quantitatively evaluate the environmental impact of a product or service in its entire life cycle (resource extraction – raw material production – product production – distribution and consumption – disposal and recycling) or in a specific stage of the life cycle.
*2 Environmental Footprint: A amount of something harm on environment such as greenhouse gases emission from individuals, organizations, and companies' activities.

ACTIONS
Below are some of the actions the Valuence Group is taking to support our stakeholders with whom we have close relationships.
* Our sustainability-related targets are to be disclosed in this summer. Our actions for the targets are also to be unveiled soon.
BLUE BATON:
What you can do right now
for children and the planet

This is a donation program that started on Children's Day, May 5, 2015, with the hope of creating a society where all children have equal opportunities. All proceeds from the sale of customers' unworn clothes will be donated to Chance for Children, a public interest incorporated association, to contribute to activities to stop the cycle of poverty among children in Japan.

Donations to Save the Children
Supporting the future of children

Since 2014, Valuence Group has continued its partnership with Save the Children Japan, a public interest incorporated association, to support the future of children around the world.

Dual Career Opportunities for Athletes
Serious about both work and competition

With the strong desire of our CEO, Shinsuke Sakimoto, who is a former J-League player, the Valuence Group is facilitating athletes to pursue careers in sports as well as in jobs.