Service
Making Reuse a Part of Everyday Living Across the World.
Our ultimate aim is to provide life-changing value to the world.
We are the Valuence Group. We believe reuse isn't about selling things when you need money. Reuse is helping your important possessions find new homes where they will continue to be valued. At the same time, reuse provides opportunities for new discoveries about oneself when investing in new items that are truly necessary. Japan has a tradition from ancient times of handing down important possessions from parent to child and grandchild. Looking back at this tradition, we can believe that perhaps even more important is to hand possessions down to others who value them as much as we did, not necessarily a blood relative. This idea is the foundation of reuse at Valuence.
And, we want more people to learn the value of reuse, incorporating this concept into their lifestyles. In the future, we hope the word reuse becomes a part of everyday living for people all across the globe. Our desire is to communicate the our unique philosophy of reuse to the world. To continue the important relationships we have built with customers throughout every stage of their lives. We will continue to take on new challenges as we pursue our mission to provide life-changing value to the world.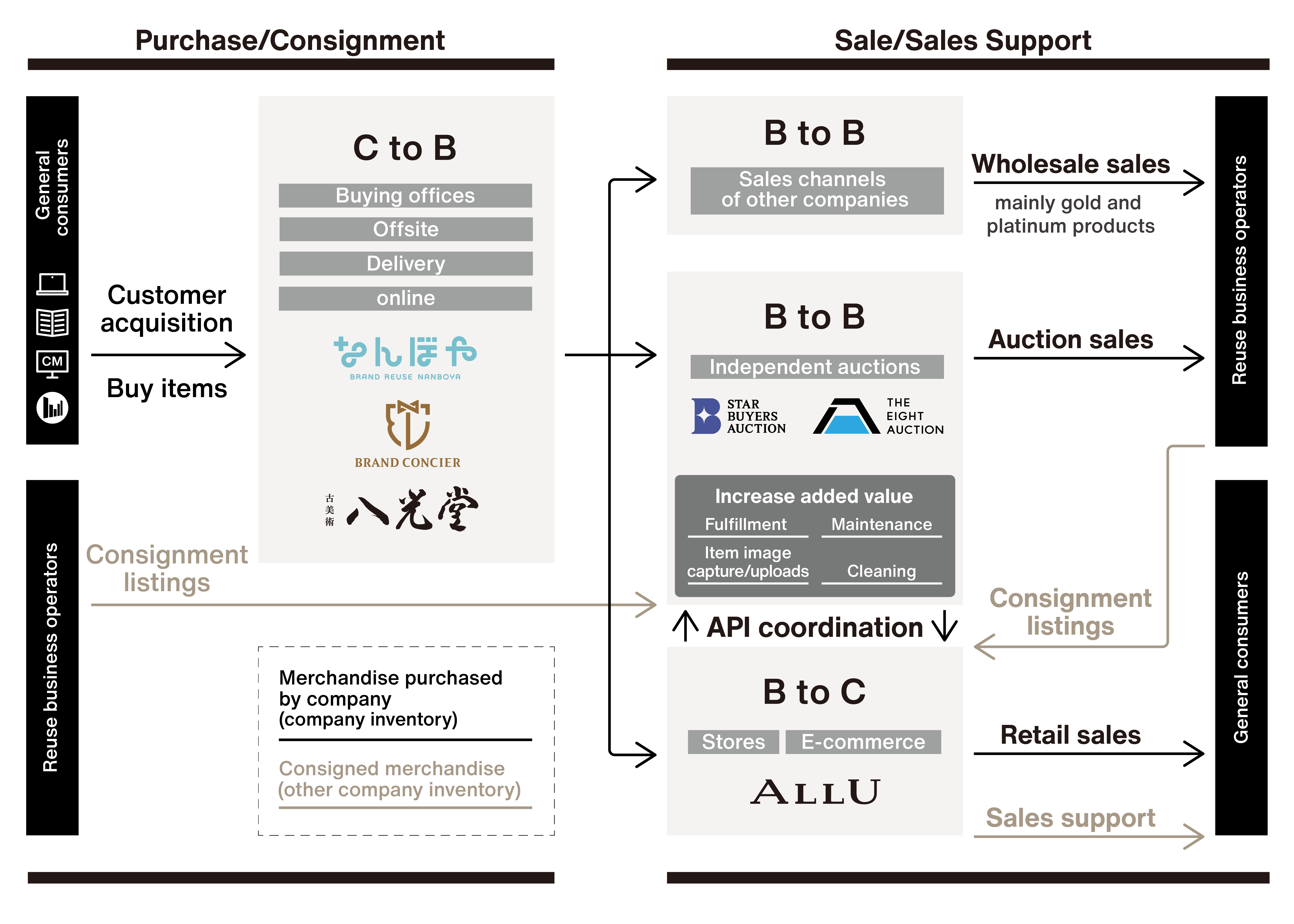 Providing added value that goes beyond just buying and selling reused products
We attract general consumers mainly through the Internet, and purchase brand-name goods through "NAMBOYA" and "BRAND CONCIER", and antiques and art works through "Antique Hakkodo". After inspection and maintenance, the purchased items are divided into four main sales channels and sold.

The first is the "STAR BUYERS AUCTION", which is an auction of branded goods and jewelry held in Japan and Hong Kong, the second is the "THE EIGHT AUCTION", which is an auction of antiques and art, and the third is the wholesale of bullion and precious metals to specialized dealers.
The fourth sales channel, "ALLU", sells mainly vintage luxury brand items at retail to general consumers.

Translated with www.DeepL.com/Translator (free version)
Buying business

Connecting Things and
Creating Opportunities to Change Lives

Our purchase business is not just about putting a price on things that are no longer needed.We listen to the memories and stories behind the objects, assess their value, and make sure the transaction is satisfactory. From "buy and use" to "sell and connect". By making a new investment in yourself, you can create a new excitement in your daily life and a chance to change your life. We want to be a place where people can create rich experiences by letting go of things. Translated with www.DeepL.com/Translator (free version)

Auction business

Bringing Japan's "Reuse" to the World
as a Hub of the Industry

In Japan, we operate auctions for brand-name goods, antiques, and fine arts, and in Hong Kong, we operate BtoB auctions for diamonds and jewelry.Since the start of the business, the number of registered dealers has continued to increase, and now we have the support of buyers from all over the world.As a hub of the industry, we aim to make the value of "reuse from Japan" commonplace around the world with our overwhelming lineup of products and quality, utilizing the strength of our own purchasing.

Retail business

A place to create new encounters
for customers

We want to create the moment when people encounter things and feel excited. With this in mind, we launched our BtoC sales business as a new business in 2016. We aim to be a place where people can purchase products that are equivalent to new products at a reasonable price, or encounter unique products that they would not normally see, and to deliver "new encounters" that can only be provided by Valuence with its reliable ability to recognize value.

Real Estate business

A lifelong relationship
with each customer

Nanboya Real Estate was launched in June 2020 with the hope of becoming a single source of consultation for the management and operation of the important assets you will acquire in your life. By providing advice on "whether it is better to rent or buy" and "when to sell or buy a property" in accordance with each individual's life stage, we support people to "live life as you want to live it. We will support you to "live your life the way you want to live it.

Technologies business

Solving corporate issues
with our accumulated proposal capabilities and technology

We have been involved in the planning and development of systems and applications such as auction systems, management systems that support the purchase, assessment, and sale of reused goods, and the real asset management application "Miney". We want to use the AI technology and information system technology we have cultivated through this experience to help everyone. Value Enthusiast Technologies was born out of this desire in11/2019. We will support your utilization and promotion of AI and DX by taking charge of the entire process from planning to development and implementation in the field.