Nanboya X A-1 Bakery Special 10% Extra Offer Starts Sep. 1, 2021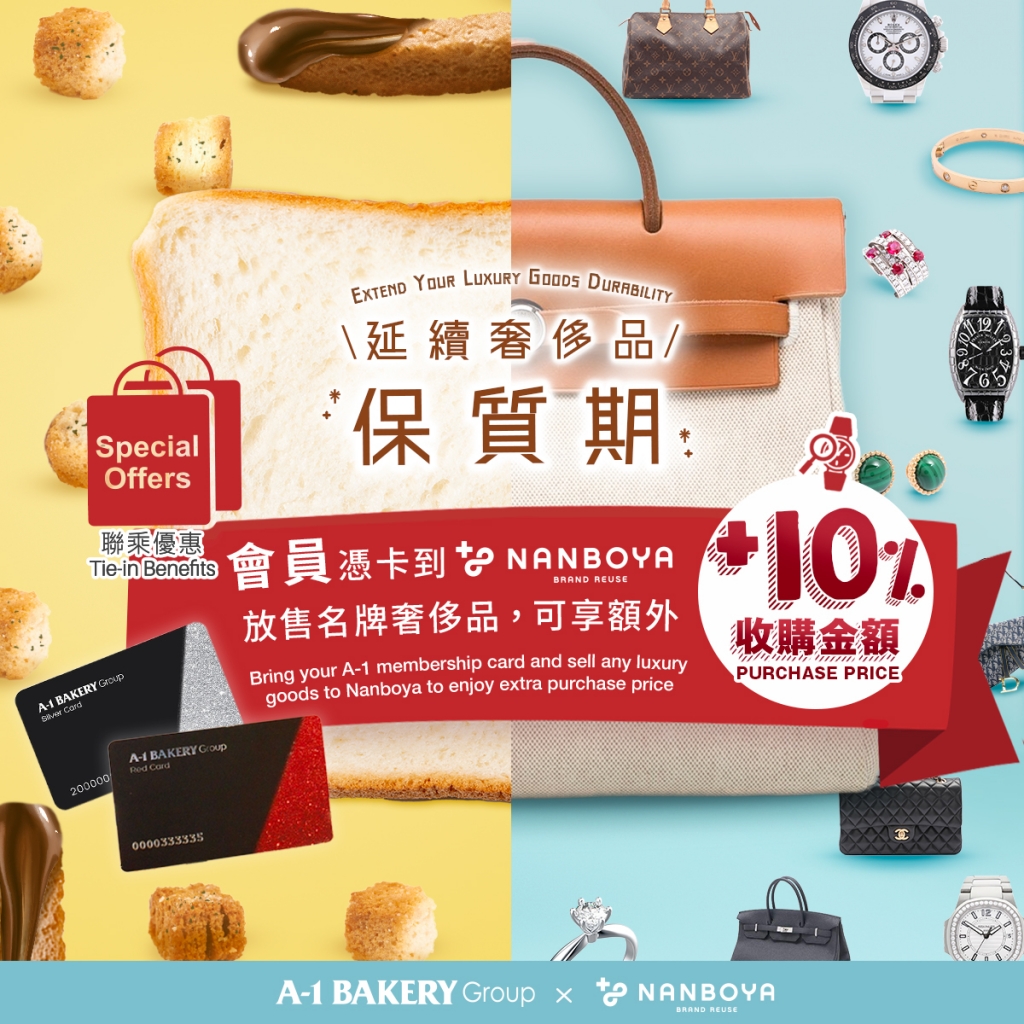 Hong Kong–In collaboration with A-1 Bakery, Valuence International Ltd. (Hong Kong; Representative Director and President: Susumu Muguruma), a member of the
Valuence Group
(TOKYO: 9270), will launch a new campaign at its three Hong Kong
Nanboya
buying offices, which deal in luxury brand goods like watches and bags.​
Nanboya is a Series of Luxury Brand Goods Buying Offices Boasting Leading Transaction Volume and No. 1 Satisfaction in Japan​
Originating in Japan, Nanboya offices specialize in purchasing branded goods no longer needed by their owners, such as watches and bags. Nanboya has around 120 offices in Japan, and is No. 1 in a comprehensive satisfaction survey of its customers (Overall satisfaction according to a survey by JMA Research Institute in 2018). It also boasts leading transaction volume in Japan, dealing in over 500,000 pieces per year.
More recently, Nanboya has used this excellent track record to accelerate its entry into new, overseas markets. Including its three offices in Hong Kong, Nanboya currently has a total of 21 offices in 14 countries outside Japan, serving needs in various countries around the world for selling luxury goods of brands like Rolex, Hermes, and Louis Vuitton.
New Special Campaign Increases Sale Prices by 10%​
This new campaign comes in collaboration with A-1 Bakery, which launched in Hong Kong in 1985 and now has 68 locations. For an annual membership fee of HKD600, A-1 Bakery will distribute VIP point cards offering 10% discount to customers. VIP cardholders will also benefit from other exclusive promotions. In this new campaign, customers presenting their VIP card from A-1 Bakery will get 10% extra when selling their brand goods at
Nanboya
.
—
Campaign Period: September 1, 2021 –
Eligible Nanboya Offices: Nanboya Tsim Sha Tsui, Nanboya Central, Nanboya Kwun Tong
Eligible Customers: Customers presenting an A-1 Bakery VIP card and selling brand goods (excluding precious materials and those not handled by Valuence) to the above Nanboya offices.
—
Office Information​
Nanboya Tsim Sha Tsui
7/F, Nathan Hill, 38 Hillwood Road, Tsim Sha Tsui, Kowloon, Hong Kong
Nanboya Central
18/F, Stanley 11, 11 Stanley St, Central, Hong Kong Island, Hong Kong
Nanboya Kwun Tong
Room 1802, 18/F, One Pacific Centre, 414 Kwun Tong Road, Kwun Tong, Hong Kong
Website:
https://hk.nanboya.global/
Facebook: @Nanboya.HongKong
Instagram: @nanboya.hk
Inquiries:
Aiko Kishi, Brand Communications Office, Valuence Holdings Inc.
Mail: media@valuence.inc