Sports Team-Authorized HATTRICK Auction to Hold Nankatsu SC Charity Auction for Katsushika!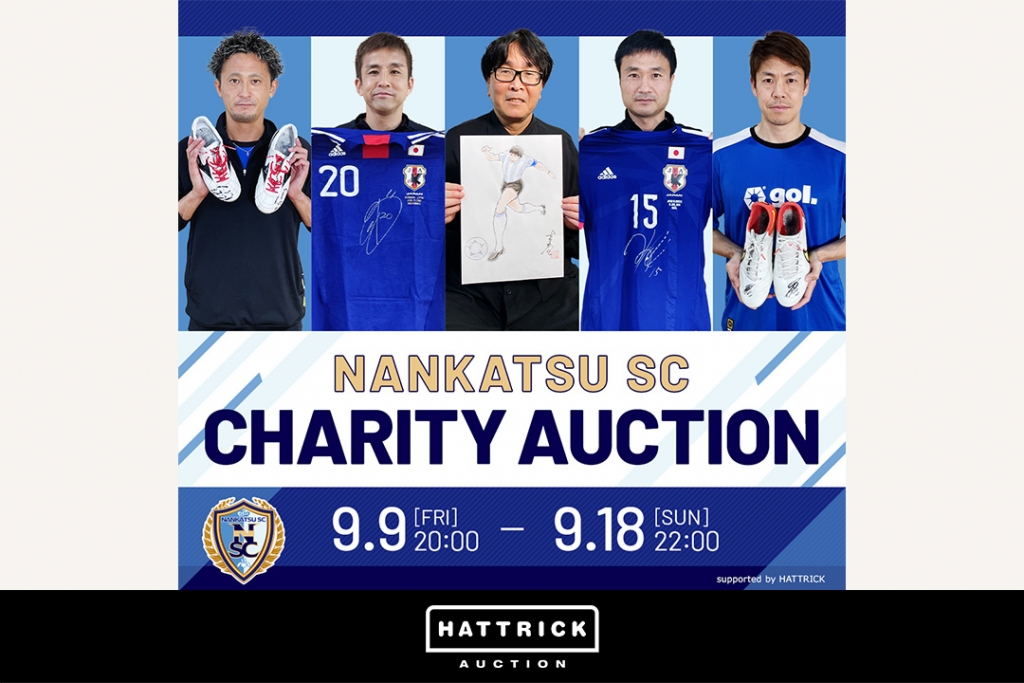 Rare, Valued Items From Captain Tsubasa Author Yoichi Takahashi, Autographed and Delivered
The Valuence Group offers life-changing value tailored to all stakeholders, encouraging every person in the world to live true to yourself. Valuence Japan Inc. (Tokyo; Susumu Muguruma, representative director and president) will hold the Nankatsu SC Charity Auction for Katsushika! beginning September 9, 2022, via the company's sports team-authorized auction service, HATTRICK (
https://auction.hattrick.world/?locale=en
).
Charity Auction to Express Gratitude to Nankatsu SC Stakeholders
Nankatsu SC is a football club featuring the same name as the team of Tsubasa Ozora, the main character in the football manga, Captain Tsubasa. The club is owned and represented by Yoichi Takahashi, the author of the world-famous Captain Tsubasa, pursuing the stated vision, From Katsushika to the J-LEAGUE. Playing in the Kanto Soccer League Division 1, the club has embraced Katsushika Ward and the entire Tokyo metropolitan area is its home town as the team seeks promotion to J-LEAGUE status. Like Captain Tsubasa, Nankatsu SC aims to be a team loved by fans across Japan and the world, giving dreams and hopes to many children, sharing hope and pride with fans and supporters, and contributing to the development of society.
The Nankatsu SC Charity Auction is a project that expresses the team's gratitude to stakeholders involved with Nankatsu SC, including the local Katsushika Ward community who have always given their enthusiastic support to the team. An original illustration of Diego Maradona, specially drawn and signed by Yoichi Takahashi, will be one of the items auctioned. In addition, former Japan national team and World Cup players Junichi Inamoto and Yasuyuki Konno, who joined Nankatsu SC in the 2022 season, and Kunimitsu Sekiguchi and Masahiko Inoha, who played in Japan's top J-LEAGUE, will be auctioning personally autographed uniforms and shoes used by the players in the past.
The proceeds from this project will be used for participation fees in the
MY FOOTBALL
project operated by Molten Corporation. The assembly style football balls purchased will be used in stadium events for Katsushika Ward children during official home games next season, as well as in projects that include player visits to children's homes in Katsushika Ward to assemble football balls together. In conjunction with this project, a video featuring interviews with Yoichi Takahashi and the four Nankatsu SC players has been posted to the official HATTRICK YouTube channel (URL:
https://youtu.be/0Tam192wLpE
). The players discuss why they joined Nankatsu SC and their enthusiastic participation in the vision to gain promotion to the JFL.
■ Nankatsu SC Charity Auction for Katsushika (Overview)
Auction period: September 9, 2022 20:00 to September 18, 2022 22:00
Listed Merchandise:
Nankatsu SC: Authentic 2022 uniform 1st (limited edition, autographed)
Nankatsu SC: Official game ball used in 2022 season (autographed)
Yoichi Takahashi: Diego Maradona original illustration (autographed)
Junichi Inamoto: Commemorative uniform from the 2010 World Cup in South Africa against Denmark (autographed)
Yasuyuki Konno: Uniform actually worn against Greece at the World Cup 2014 in Brazil (autographed)
Masahiko Inoha: Shoes worn by Masahiko Inoha as a member of Yokohama FC (autographed)
Kunimitsu Sekiguchi: Shoes worn by Kunimitsu Sekiguchi in his first official game for Nankatsu SC (autographed)
Auction page URL:
https://auction.hattrick.world/top/562
* See the auction page for more details.
■ About HATTRICK
HATTRICK is a sports team-approved auction service operated by Valuence Japan Inc., pursuing a mission to create a sustainable future for athletes. This new auction service protects the intellectual property of athletes and teams, co-creating new value by connecting with fans and support all people engaged in sports.
・HP:
https://auction.hattrick.world/?locale=en
・Instagram:
https://www.instagram.com/hattrick.world_official/
(@hattrick.world_official)
・Twitter:
https://twitter.com/hattrick_world
(@hattrick_world)