Valuence Partners With Kourakuen for Second Captain Tsubasa Character IP Licensing Project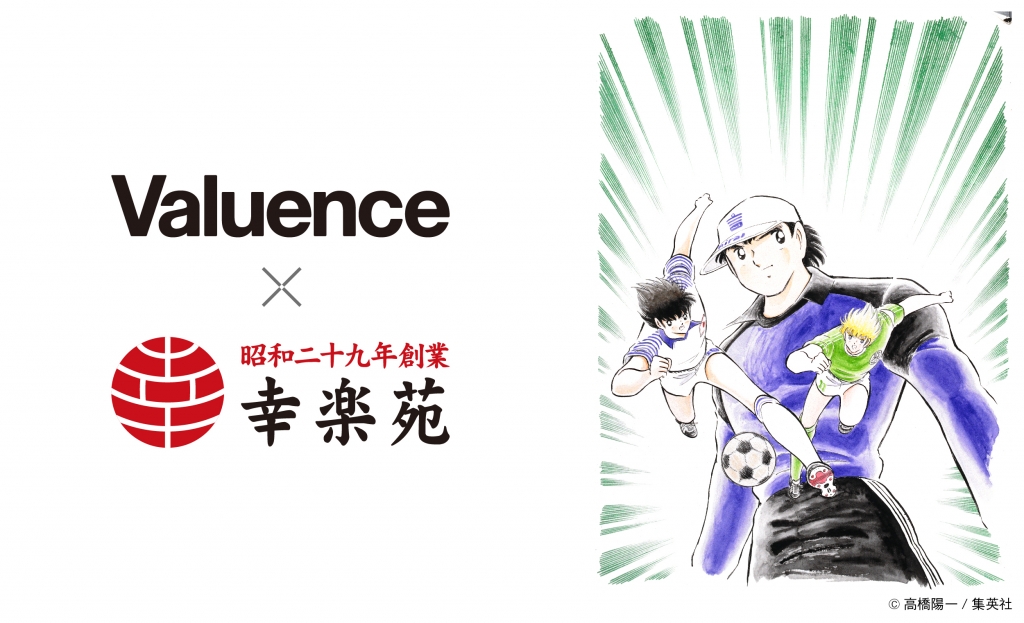 Free Captain Tsubasa Stickers at All Kourakuen Locations Beginning December 1! Prize Drawing for Original Captain Tsubasa x Kourakuen Collaboration Rice Bowls
Valuence Holdings Inc. (Tokyo; Shinsuke Sakimoto, representative director and president) pursues the purpose of Circular Design for the Earth and Us, and Encourages More People to Focus on What is Most Important in Their Lives. Subsidiary company Valuence Japan Inc. (Tokyo; Susumu Muguruma, president and representative director) has announced a collaboration campaign beginning December 1 with Kourakuen Holdings Corporation (Koriyama City, Fukushima Prefecture; Noboru Niida, president) based on Captain Tsubasa character IP. This marks the second such collaborative campaign between the entities, following the successful project announced this past September. Under this new campaign, Kourakuen locations nationwide will give away stickers (junior youth version) from the immortal soccer manga, Captain Tsubasa, loved around the world. The campaign will also involve a Twitter and Instagram contens to select winners of an original Captain Tsubasa x Kourakuen collaboration rice bowl.
■ Second Captain Tsubasa x Kourakuen Campaign
For every 1,500 yen (tax included) in purchases at Kourakuen locations nationwide during the campaign, customers will receive a sticker depicting a famous scene from the legendary Captain Tsubasa manga. The stickers for this second collaboration will be a junior youth version and a secret sticker, signed by Captain Tsubasa creator Yoichi Takahashi.
Campaign period: Junior youth edition (five types); December 1 to December 30, 2022
*Two stickers will be presented with a purchase of 3,000 yen, and three stickers will be presented with a purchase of 4,500 yen.
*Only dine-in or takeout customers eligible. (Purchases for delivery not eligible)
*Approximately 1,500 stickers will be available at each location and given out at random.
*Giveaway only available while supplies last.
*Campaign period may be extended.

Junior Youth special stickers *Five types in total, with additional secret sticker
■Captain Tsubasa x Kourakuen Twitter and Instagram Campaign
During the aforementioned collaboration, Valuence and Kourakuen will hold a drawing over Twitter and Instagram to select 400 winners of original Captain Tsubasa x Kourakuen collaboration rice bowls. How to participate: Follow the official Kourakuen accounts on Twitter or Instagram. Retweet the campaign tweet on Twitter or press the "like" button on Instagram.
Entry period: December 1 to December 30, 2022
Prize: Captain Tsubasa x Kourakuen collaboration rice bowl
Number of winners: 400
Kourakuen Official Accounts
Twitter:
https://twitter.com/kourakuen_pr
Instagram:
https://www.instagram.com/kourakuen_pr/