Miney: Expanding Brands Compatible With Automated AI Appraisals​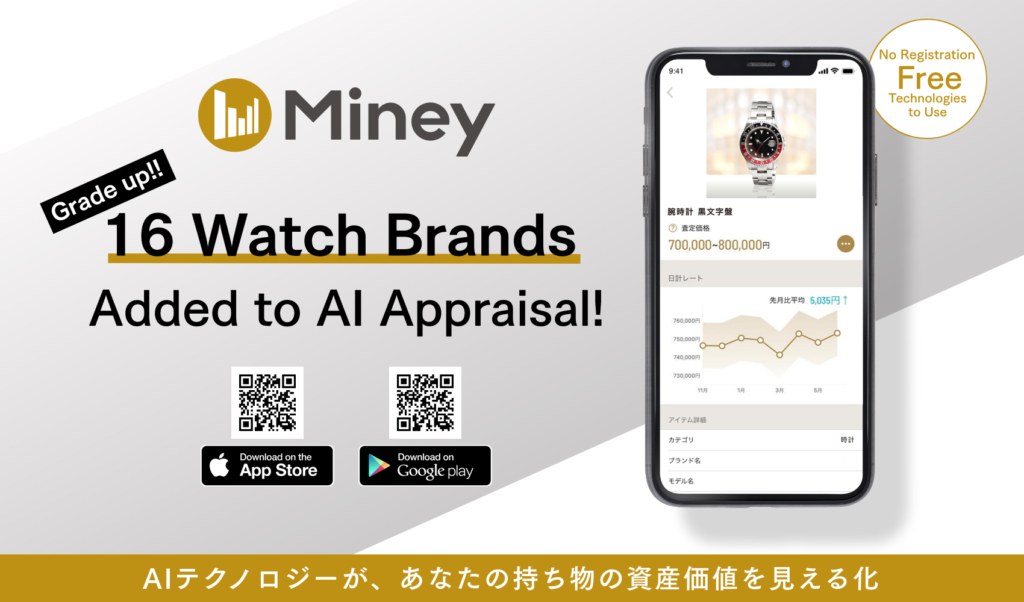 Any of 16 Watch Brands Appraised via AI With Just One Photo! ​Easier, Faster, More Convenient Personal Asset Management.
The Valuence Group offers life-changing value tailored to all our stakeholders, encouraging every person in the world to live true to yourself. Valuence Group company Valuence Technologies, Inc. (Tokyo; Ryoji Fukaya, representative director and president) today announced the official release of an AI watch appraisal function in the Miney personal asset management app, featuring improved accuracy and covering 16 luxury watch brands. Valuence Technologies had been developing a beta version of the AI watch appraisal function using Rolex brand watches.
Significant Leap Forward in Convenience, AI Appraisals for 16 Watch Brands
The Miney personal asset management app allows consumers to use their smartphone to check the value of a wide range of items, from luxury brand goods resting unused in home closets to real estate. Since its launch in 2017, Miney has been used to appraise more than 40 billion yen in assets. Appraisals of watches, in particular, have exceeded 10 billion yen, a category second only to appraisals of real estate (as of Q3 of the fiscal year ended August 2020).
In November 2019, Valuence Techologies began developing AI-based watch appraisals using Rolex brand watches. Over time, more watch brands were added, including Omega, IWC, Cartier, and more. Today, the Miney app provides AI appraisals for 16 luxury watch brands in total.
Many reuse service customers own and manage luxury brand watches as actual assets. This latest Miney upgrade will offer easier, faster, more convenient personal asset management, even for customers who are registering their watches with the app for the first time.
Panerai Appraisal Accuracy in Excess of 98%*​
The Miney watch appraisal feature is the result of increasing volumes of proprietary Valuence Group market data through the Miney app and other sources, combined with an independently developed algorithm based on Valuence Technologies machine learning and deep learning technologies. In an accuracy test of nearly 5,000 luxury brand watches and images, only 0.1% of cases exhibited detection errors preventing recognition of a watch from a photo image. Correct identification of Panerai watches exceeded 98%*. (*Results of tests conducted by Valuence Technologies)
Valuence has already begun development of an AI appraisal function for luxury bags in the Miney app. The company will continue to expand this appraisal function across other brands and luxury item categories, striving to evolve the service.
■AI Watch Appraisal Overview
The Miney AI watch appraisal function allows customers to take and upload a single photo of their watch to see a chart of historical and current market prices for their item. Month-on-month data is also available for customers considering the best timing to sell their watch.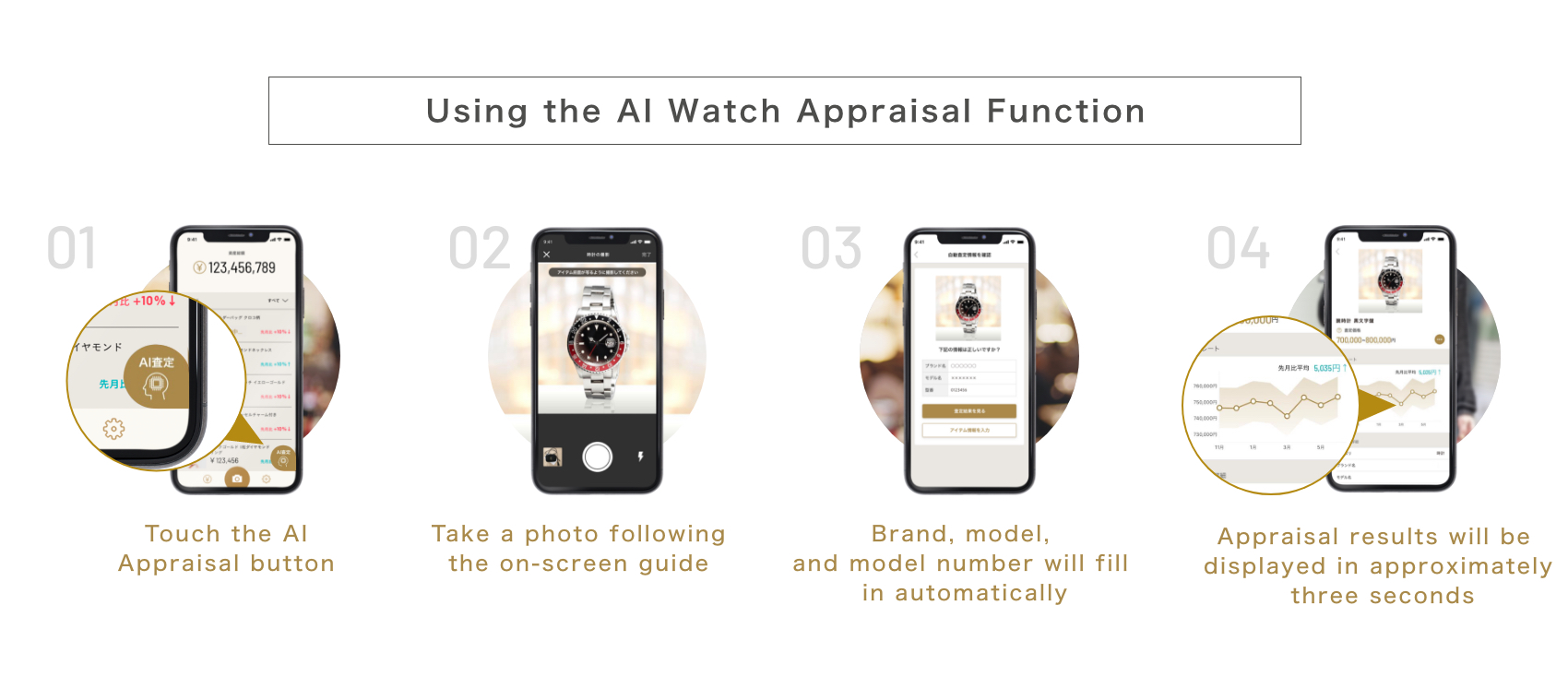 Compatible Brands: Rolex, Omega, Cartier, Casio, Seiko, Bvlgari, TAG Heuer, Breitling, Hermes, GaGa Milano, Hamilton, Chanel, Franck Muller, Panerai, IWC, Citizen (16 brands total)