Introduction of Market Price Charts for STAR BUYERS AUCTION Partners ​ ​
The Valuence Group offers life-changing value tailored to all our stakeholders, encouraging every person in the world to live true to yourself. Valuence Japan, Inc. (Tokyo; Susumu Muguruma, representative director and president), a member of the Valuence Group, today announced the launch of a winning bid market price chart, available by subscription to STAR BUYERS AUCTION partners. STAR BUYERS AUCTION is a luxury brand goods auction service operated by Valuence Japan, Inc. ​ ​
Bringing More Visibility to Market Price Data for More Satisfying Auction Experiences
Beginning in October 2020, Valuence Japan's STAR BUYERS AUCTION luxury brand goods auction business increased the frequency of auctions to twice monthly. In so doing, the business expanded the number of potential auction items, increased the potential number of items accepted for consignment, and otherwise adopted a more active approach to auctions of consigned items for partners in Japan and overseas. Valuence Japan has received numerous requests for price data related to winning bids at STAR BUYERS AUCTION from partners in Japan and overseas participating in auctions for the first time. In response, the business launched a winning bid price chart that provides data at a glance. The service is available to partners by subscription. ​ ​
The company expects that disclosing market prices, which had been unavailable until now, will encourage partners considering listing items with STAR BUYERS AUCTION to take action and create an auction platform with even greater satisfaction for sellers and buyers. All partners will have free trial access to the new service, and STAR BUYERS AUCTION encourages all partners to take advantage of the opportunity.​​
High-Experience Value Market Price Chart Subscription​​​​​​
The STAR BUYERS AUCTION market price chart subscription service allows partners throughout the world to check global market prices, not only for the winning bid price and condition of a single item, but also historical data trends up to and including the most recent transactions. In this way, STAR BUYERS AUCTION partners gain the benefit of high-experience value through market price charts.​
Service Overview
Beginning February 24, 2021, partners can view winning bid prices on the STAR BUYERS AUCTION website. All STAR BUYERS AUCTION partners are eligible for free service during the trial period. ​
For the time being, the service will be available in beta format while the company adds users and updates the system. Subscription fees will be charged once the feature is released officially. The STAR BUYERS AUCTION operations office will inform partners when the service update period has concluded. ​​
【​Service Overview After Official Release​】
・Subscription fee: 11,000 yen per month (including tax; charged in Japanese yen)​ ​
・Application Method: Register by clicking the application banner on the members' page ​ ​
・申Special Benefits: New subscribers receive the first two months of service free of charge​
​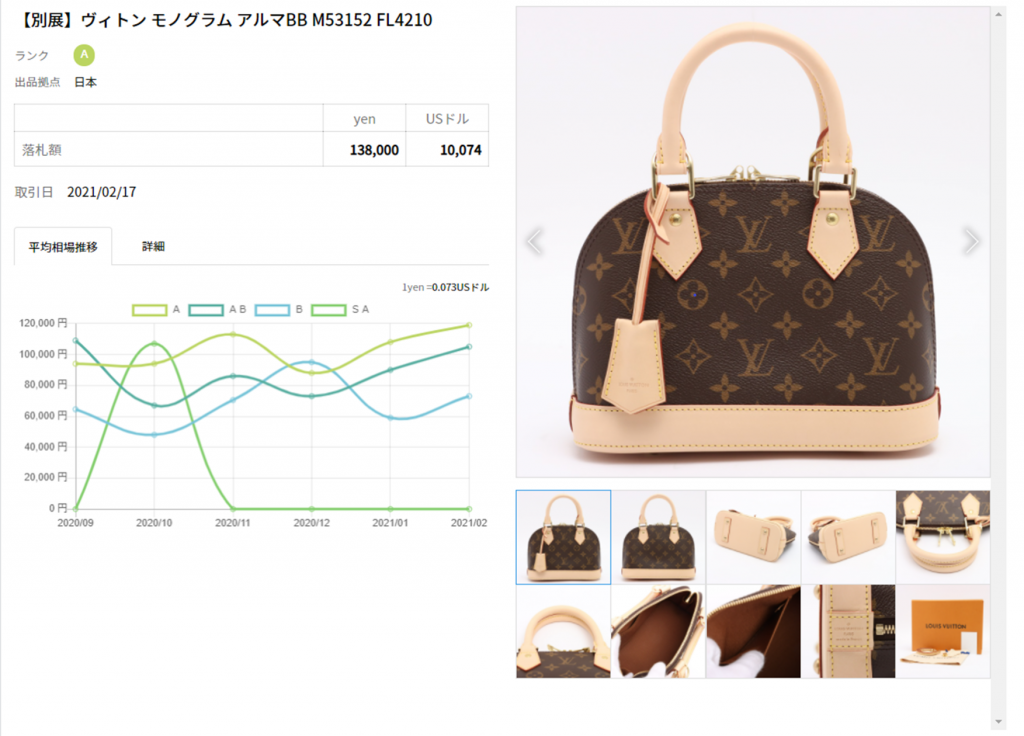 ​
​
■STAR BUYERS AUCTION Overview​
STAR BUYERS AUCTION is a luxury brand goods auction platform launched in April 2013 for dealers in the reuse industry. In April 2020, the service transitioned to a completely online platform. Items on auction include luxury brand watches, bags, jewelry, and other items purchased by the Valuence Group offered in stable quality and volume. Auctions are held twice monthly. STAR BUYERS AUCTION conducts auctions in Hong Kong, mainly for diamonds. ​ ​​
​
Official Site:
https://biz.starbuyers-global-auction.com/
​​
Facebook:@sba.starbuyersauction  ​​
Instagram:@sba.jp  ​​
​