Nanboya to Start Painting and Wall Hanging Purchases in Hong Kong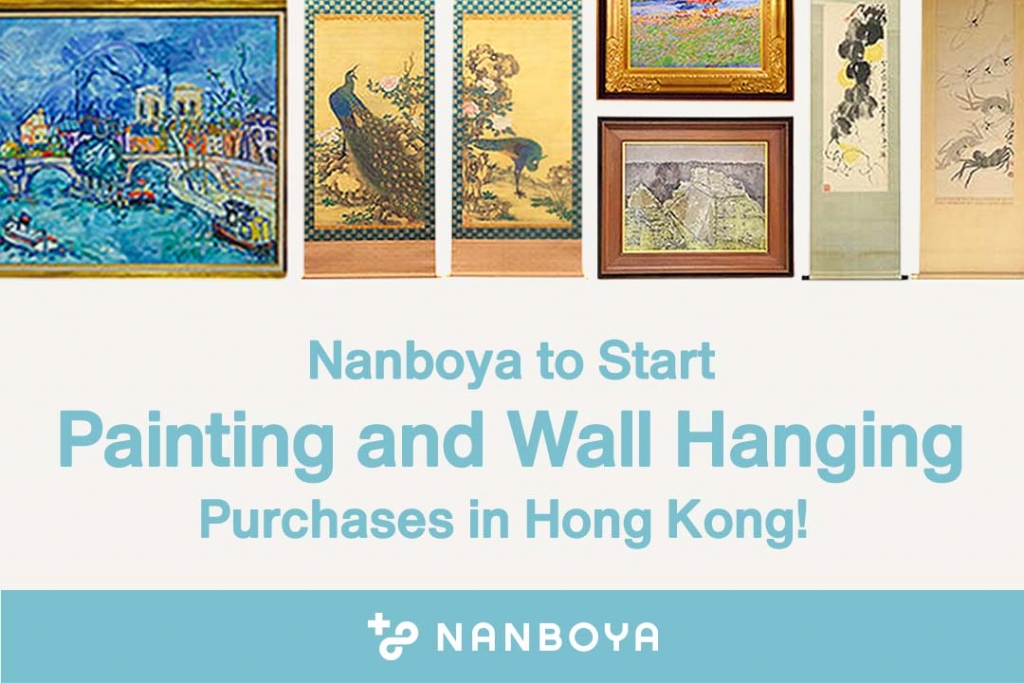 Following Singapore as the Next Location to Leverage Expertise Developed in Japan for Antique and Art Purchases
The Valuence Group offers life-changing value tailored to all stakeholders, encouraging every person in the world to live true to yourself. Valuence International Ltd. (Hong Kong Special Administrative Region of the People's Republic of China; Susumu Muguruma, Representative) will start purchasing paintings and wall hangings from February 1, 2022 through Hong Kong luxury brand item purchasing business, Nanobya (
https://hk.nanboya.global/en/
).
Valuence International Ltd. expands purchase categories in Hong Kong, extending to antiques and art
Valuence International Ltd. operates three Nanboya buying offices in Hong Kong, specializing in purchasing luxury brand goods. The three Hong Kong locations offer in-office, in-home, and by-mail purchasing services for customer convenience. Nanboya purchases across a wide range of categories, including luxury brand goods (watches, bags, accessories), jewelry, and precious metals. Polite, Japanese-style customer service and treatment that values the memories customers have built around their important items results is in many new and repeat customers.
The Nanboya business, which began the purchase of paintings and wall hangings in Singapore in December 2021, began purchasing these items in Hong Kong as well.
Similar to Singapore, Hong Kong is a region with a large number of wealthy households. Nanboya is looking to develop interactions with affluent customers in Asia through the purchase of paintings and hanging scrolls, which are classified as art works.
In the future, Nanboya intends to expand purchase categories further (Chinese antiques, ceramics, etc.) and explore local sales channels.
Campaign to Launch the Start of Antique Purchases
To commemorate the start of antique purchases, Nanboya will conduct a special campaign, increasing the regular purchase price of antiques by 10% for a limited time.
Nanboya encourages everyone to take advantage of this opportunity.
Period: February 1, 2022 – April 30, 2022
Purchase method: in-office, in-home, and by-mail
Hong Kong Nanboya Buying Office
●Nanboya Jordan
・Address:Room 503-4, 5/F, Hanford Commercial Centre, 221B-E Nathan Road, Kowloon
・Business hours: 11:00 AM to 7:00 PM (local time)
●Nanboya Central
・Address:18F Stanley 11, 11 Stanley Street, Hong Kong
・Business hours: 11:00 AM to 7:00 PM (local time)
●Nanboya Kwun Tong
・Address:Room 1802, 18/F, One Pacific Centre, 414 Kwun Tong Road, Kwun Tong, Hong Kong
・Business hours: 11:00 AM to 7:00 PM (local time)
●By-Mail Purchase
・Application Method:WhatsApp or Facebook
・Application URL:+852 9889 8591 (
http://bit.ly/2P79Umf
)
●In-Home Purchase
・Application Method:WhatsApp or Facebook
・Application URL:+852 9889 8591 (
http://bit.ly/2P79Umf
)