Valuence Launches Collaboration Product With DyDo DRINCO, INC. Using the Captain Tsubasa Characters!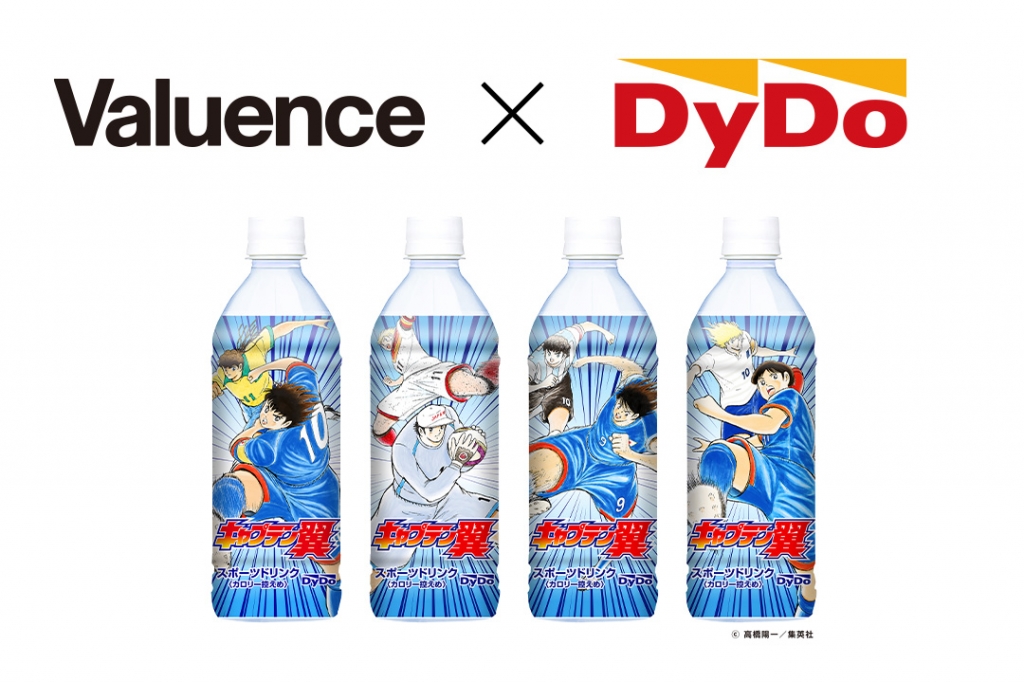 Four Limited Edition Sports Drink Featuring Characters From Captain Tsubasa Will go on Sale October 17
The Valuence Group offers life-changing value tailored to all stakeholders, encouraging every person in the world to live true to yourself. Valuence Japan, Inc. (Tokyo; Susumu Muguruma, representative director and president) has announced a collaboration with DyDo DRINCO, INC. (Osaka; Takanori Nakashima, president and representative director) using the Captain Tsubasa intellectual property managed by Valuence Japan. The collaboration will begin selling Captain Tsubasa sports drinks on October 17 as a new product mainly in Japan for the 2022 fall/winter season.
Launch of Collaborative Products Featuring Captain Tsubasa Characters
In March 2021, Valuence Japan parent company Valuence Holdings became an official partner of Nankatsu SC, a football club aiming to inspire children with hopes and dreams, as well as to become the first J-LEAGUE team located in the 23 wards of Tokyo. In July 2021, Valuence invested in Nankatsu SC to support the further growth of the team, its entry into J-LEAGUE, and its promotion to J1. The investment was also designed to help both entities grow as businesses. In August, Valuence Group CEO Shinsuke Sakimoto was named a director of Nankatsu SC and became involved in club management. Subsequently, Valuence and Nankatsu SC began an IP licensing business for the Captain Tsubasa character, leveraging the domestic and international sales network of the Valuence Group. Valuence Japan will pursue global IP licensing development using the resources of the Valuence Group, which operates offices around the world. Potential businesses include product sales and advertising campaigns utilizing the IP in cooperation with various partner companies in Japan and overseas. Through these efforts, the companies will aim not only to expand recognition and enhance the value of Captain Tsubasa works and characters, but also return profits from the IP licensing business to Nankatsu SC to further stabilize the club's management base and accelerate club preparations for J-LEAGUE, including player development.
Limited-Edition Collaboration Sports Drink Featuring Designs of Ozora Tsubasa and Captain Tsubasa Main Characters Genzo Wakabayashi, Kojiro Hyuga, and Taro Misaki
This collaboration with DyDo DRINCO, INC. which represents the second IP licensing venture for Valuence Japan in Japan, will begins sales of the Captain Tsubasa sports dink on October 17, mainly in Japan. The drink will be a new product for the 2022 fall/winter season. Valuence Japan and DyDo DRINCO, INC. believe that recent major changes in lifestyles and work styles, including voluntary restraints on unnecessary travel outside the home and telecommuting, have increased health consciousness. Feeling a lack of exercise, more people are beginning to embrace new healthy routines. Therefore, the two companies decided to work with DyDo DRINCO, INC. in launching the Captain Tsubasa sports drink to support people who are working hard at sports and challenging themselves to achieve their dreams. The new sports drink has a refreshing citrus flavor with moderate sweetness and a clean aftertaste. The combination is suitable for rehydration after exercise and as a measure to prevent heat stroke*. Ideal for refreshing occasions, the drink is also gentle on the body and low in calories. The character lineup for the venture features four dynamic designs of the hero of Captain Tsubasa, Tsubasa Ozora, as well as Genzo Wakabayashi, Kojiro Hyuga, and Taro Misaki. The art work will include the characters and their relationships with world rivals they battle for victory. The designs will provide a sense of realism to fans of all ages.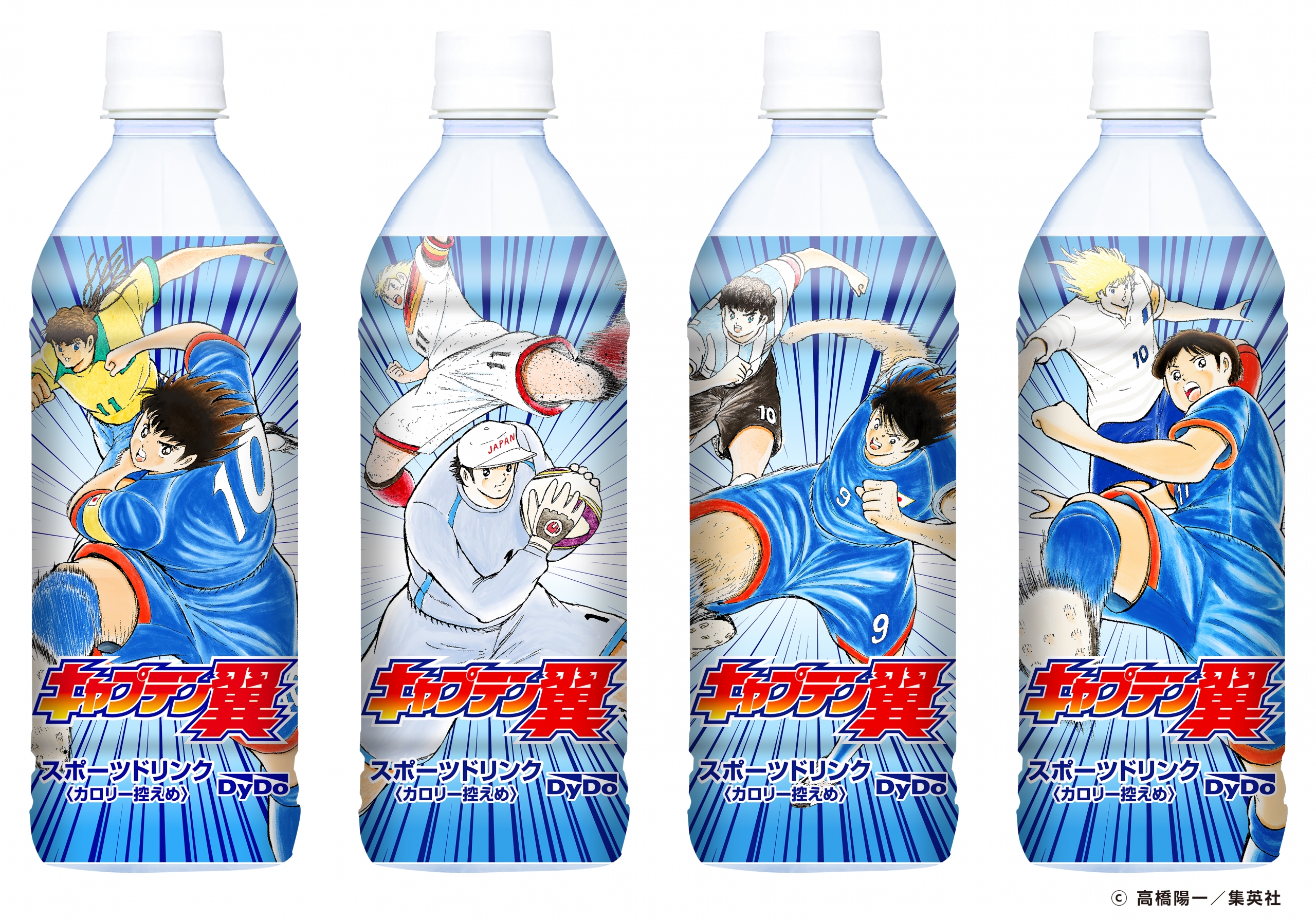 Valuence Japan intends to continue creating opportunities for fans around the world to interact with Captain Tsubasa through IP licensing both in Japan and overseas. The company will develop services to maximize and enhance the value of this beloved character. As part of the Valuence Group, which is the main partner of Nankatsu SC, the company will strive to help the football club achieve J-LEAGUE promotion and grow the businesses of both entities.
* Contains salt equivalent suitable for heat stroke prevention (0.13g/100ml) per Japanese domestic standards.
Product Overview
・Product name: Captain Tsubasa Sports Drink
・Release date: October 17, 2022
・Volume: 500 ml PET
・Suggested retail price: 140 yen (excluding tax)
・Sales channels: Mass merchandisers, etc.
* Not available on the DyDo DRINCO, INC. online store
* Purchases by the case are not guaranteed to include all designs in a single case.
■ Comment from Yoichi Takahashi, Creator of Captain Tsubasa
We are pleased for the opportunity to collaborate with DyDo DRINCO, INC. The four different designs will feature many Japanese characters as well as rival characters from overseas who are competing with Tsubasa and his team, making for a very colorful and exciting collaboration. I play sports, myself, so I plan to enjoy playing while drinking this new drink. I encourage everyone to have a sweaty and enjoyable time while drinking the new sports beverage.