Valuence Announces Environmental Footprint and Avoided Emissions for Fiscal 2022! Avoided CO2 Emissions Equivalent to 1,100 Pyramids in Volume!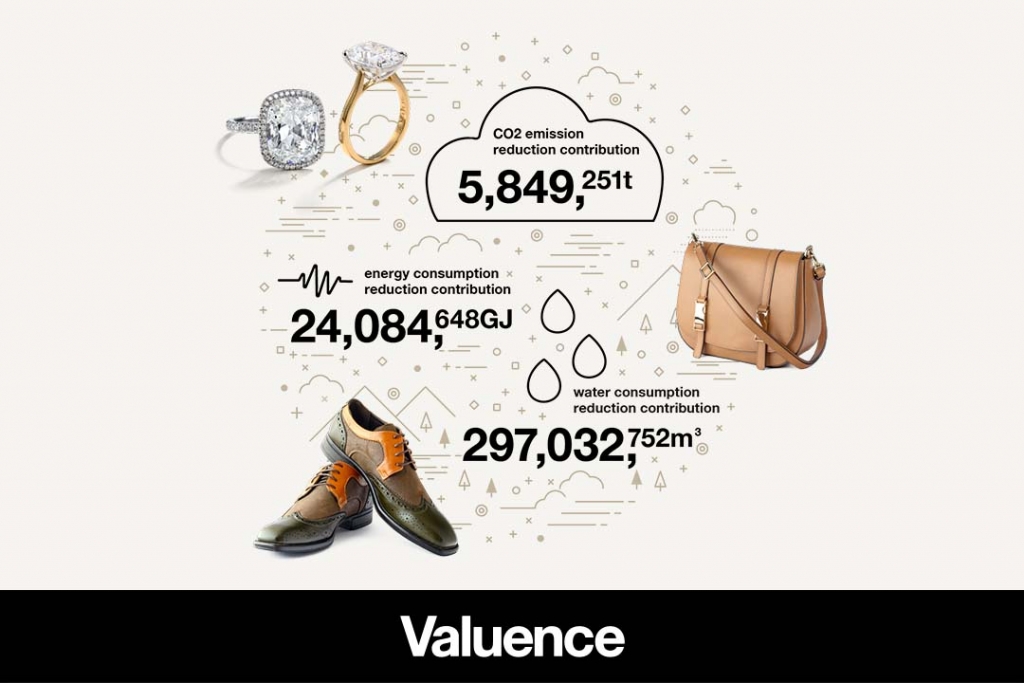 The Valuence Group (Valuence Holdings, Inc., Tokyo; Shinsuke Sakimoto, representative director and president) pursues the purpose of Circular Design for the Earth and Us, and encourages more people to focus on what is most important in their lives. The Group has calculated its environmental footprint and avoided emissions associated with luxury merchandise purchased and sold by the group during fiscal 2022. The results of the calculations were published on the group's corporate website on January 13, 2023 (
https://www.valuence.inc/en/sustainability/
).
Fiscal 2022 Avoided CO2 Emissions Equivalent to 1,100 Pyramids in Volume
Since its founding in 2011, reuse has been the core of the Valuence Group business, not as a means to throw out luxury brand items no longer wanted, but as a means to pass on such items to persons who want and will enjoy their value. As an industry leader in Japan, the group aims to promote reuse further. As one of the group's materialities (priority ESG initiatives) and as a specific action to reduce the environmental footprint of the merchandise handled by the organization, the Valuence Group developed a proprietary mechanism using life cycle assessment (LCA) to spread the adoption of reuse: the Valuence Resale Impact Calculator. This calculator outputs Resale Impact (*1) stemming from an entity's environmental footprint and avoided emissions.
Calculating and disclosing in May 2021 the group's avoided CO2 emissions, water consumption, energy consumption, and avoided PM2.5 emissions related to merchandise was the first such initiative in the reuse industry in Japan (*2).The company has recently calculated the Resale Impact of products sold in fiscal 2022 (September 2021 to August 2022).
Calculations determined that the group contributed to avoided emissions of 5,849,251 tons CO2 297,032,752m3 of water consumption, 24,084,648GJ of energy, and 2,489,485 tons of PM2.5 emissions, an air pollutant. The 5,849,251 tons of avoided CO2 emissions is equivalent to the volume of about 1,100 of the famous Egyptian pyramids (*3), which is about the same amount of carbon dioxide absorbed annually by about 400 million cedar trees (*4).
The Valuence Group believes that visualizing the environmental footprint and avoided emissions of reuse as Resale Impact will encourage consumers to choose to reuse, while also understanding their positive impact on the environment. As society shifts from an era of focus on material abundance to an era of focus on spiritual abundance and connectedness, the Valuence Group will continue to create opportunities that encourage more people to focus on what is most important in their lives. At the same time, the group will continue to accelerate the transition to circular economies by expanding its reuse business, which finds value in unneeded items repurposed into items embraced by the next owner.
*1: Luxury merchandise (watches, bags, jewelry, apparel, accessories) handled by the Group are classified into 17 categories according to their material composition, with data from representative merchandise in each category used to calculate environmental footprint via Gabi, an LCA software tool.
*2: According to Valuence research
*3: Calculated using the volume of the Great Pyramid of Giza (138.5m high), of the largest pyramids in Egypt. Source: International Carbon Bank & Exchange.
https://www.icbe.com
*4 Source: Kanto Regional Forest Office. Carbon Dioxide Absorption Capacity of Forests.
https://www.rinya.maff.go.jp/kanto/hukusima/office/forest/knowledge/breathing.html