AI Image Recognition Searches for​ Items Similar to Those Listed on Used and Vintage Goods Shop ALLU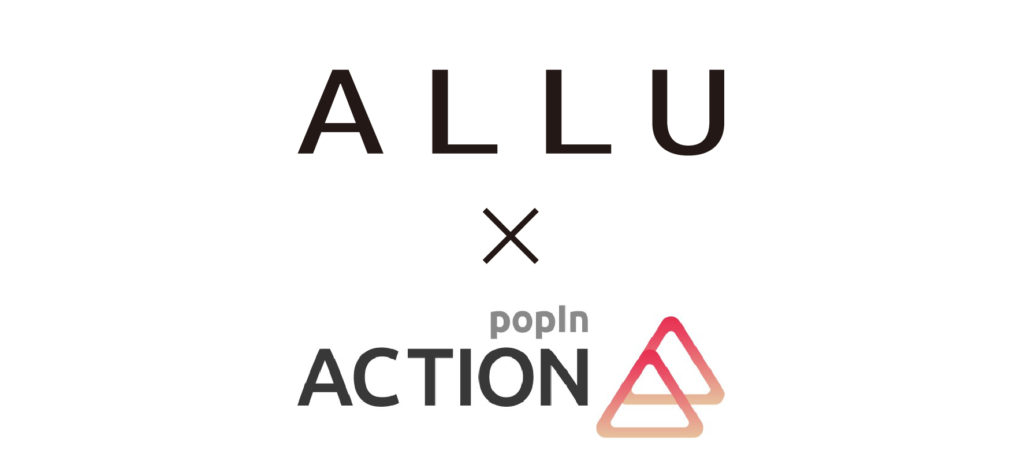 Search quickly and easily based on photos of desired items ​Shop without even knowing exact product names​
The Valuence Group offers life-changing value tailored to all our stakeholders, encouraging every person in the world to live true to yourself. The Valuence Group today announced the May 12 launch of popIn Action, an AI image recognition service for e-commerce, provided by popIn Inc. (Tokyo; Cheng Tao, representative director and president). The service is available for use on ALLU, a used and vintage shop operated by Valuence Japan Co., Ltd. (Tokyo; Kei Fujita, representative director and president)​
AI image recognition provides a more convenient shopping experience
ALLU is a used and vintage goods shop that offers a wide range of products, from used products such as street brands and secondary brand items to carefully selected high-brand vintage products. Online, ALLU sells about 10,000 items. Since each item is one-of-a-kind, it can be difficult for users to find the item they want.​
To solve this problem, ALLU has adopted popIn Action, an AI image recognition feature. popIn Action allows consumers to search for items that resemble the product images they have stored on their mobile phones or PCs, or even images of products they have viewed elsewhere online. Using images, consumers can search easily for desired items, even without knowing the brand name or the product name itself. This allows for a more convenient and comfortable shopping experience.​
Image search function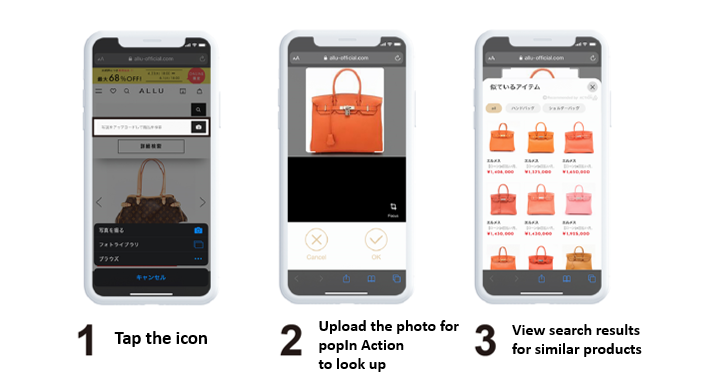 ■ Overview of popIn Action AI image recognition e-commerce​
popIn Action is a service that makes it easier for e-commerce site visitors to products. The feature recommends products with similar images to ones being viewed on an e-commerce site (similar item search), as well as a feature allowing consumers to upload images from a mobile phone or PC to search for and display similar products. The unique image recognition technology searches for similar items by reading elements from the product image, such as color, pattern, shape, and material. There is no need to collect user behavior history and other data, and the feature itself can be loaded easily into a webpage.
Online Site:
https://action.popin.cc/
■ALLU Overview
ALLU is a used and vintage goods shop offering carefully curated secondhand high fashion brand items, including everything from street brands to luxury brand goods.
Location: ALLU Ginza (5-3-14 Ginza, Chuo-ku, Tokyo)​
ALLU Shinsaibashi (1-10-9 Chuo-Ku, Osaka City, Osaka)
Official Online Store:
https://allu-official.com
instagram:@allu_onlinestore
popIn Inc.​
https://www.popin.cc/
​
・Representative Director and President: Cheng Tao​
・Head Office: Roppongi Hills Mori Tower 39F, 6-10-1 Roppongi, Minato-ku, Tokyo, 108-0075​
・Business Lines: Operating recommendation service for news articles, etc. (popIn Discovery), recommendation service for EC websites (popIn Action), world's first ceiling lights with projectors