Introducing ReviCo, a review optimization tool for the ALLU used and vintage goods shop​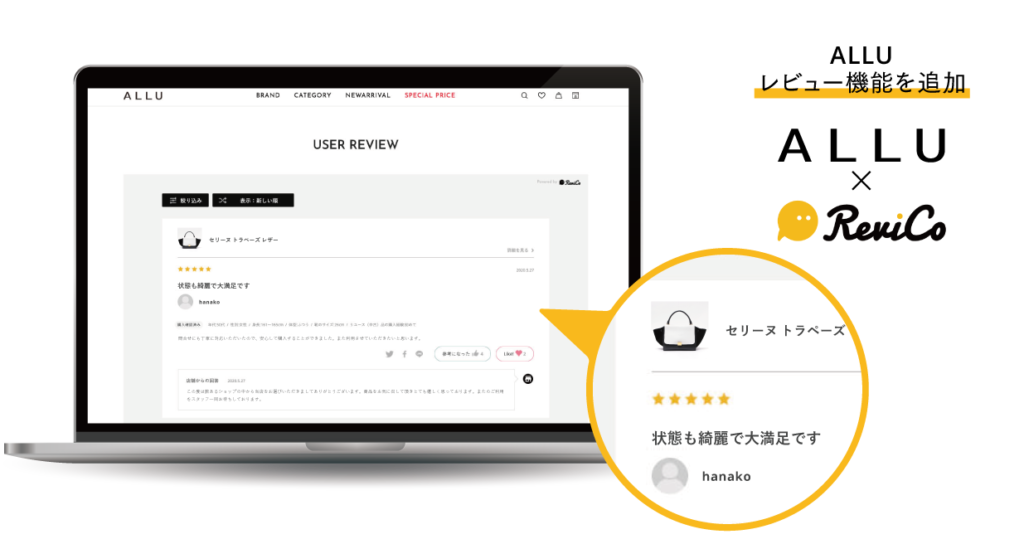 Users post authentic reviews for higher transparency and greater consumer peace of mind​
The Valuence Group offers life changing value tailored to all our stakeholders, encouraging every person in the world to live true to yourself. The Valuence Group today announced the adoption of ReviCo, a new review optimization tool provided by ECBEING CORP. (Tokyo; Masaya Hayashi, representative director and president) on ALLU. ALLU is a used and vintage goods shop operated by Valuence Japan Co., Ltd. (Tokyo; Kei Fujita, representative director and president).
Fostering a sense of security for customers through a visualized, realistic purchasing experience
ALLU is a used and vintage goods shop that offers a wide range of products, from used products such as street fashion and secondary brand items to carefully selected high-brand vintage products. Curated ALLU select shops have been opened to sell vintage goods in Ginza, Tokyo and Shinsaibashi, Osaka. The service also offers about 10,000 items for purchase online. ​ Currently, ALLU is improving and expanding its services so anyone can enjoy shopping freely and with peace of mind, whether online or off. As part of these efforts, ALLU has introduced the Revico review optimization tool for use on the ALLU e-commerce site.​ With this tool, customers will be able to check reviews from other users on the actual condition of the product and its usability. This interaction alleviates -purchase anxiety, allowing for a more secure and reliable shopping experience, particularly for first-timers.​
Concept
ReviCo can be used as a communications tool that allows shop staff to comment on customer reviews.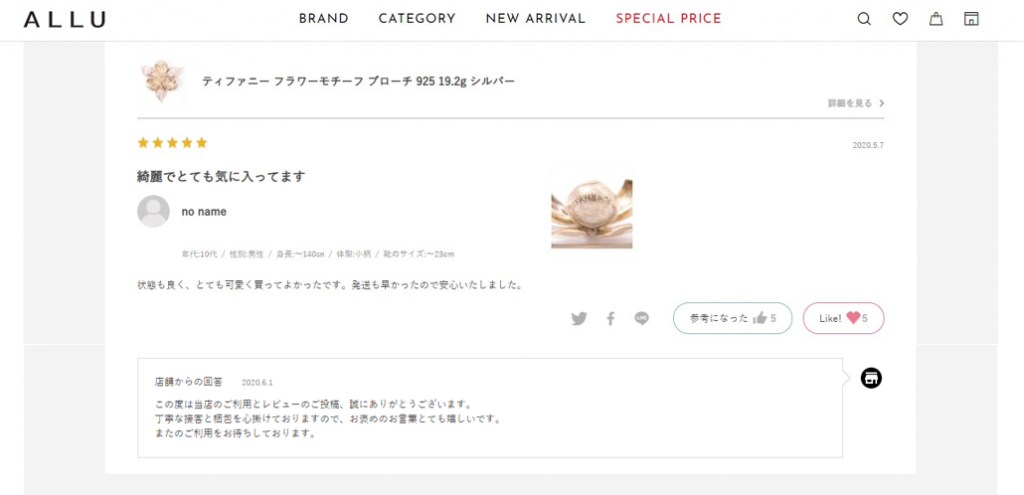 ■Overview of the ReviCo review optimization tool
ReviCo is a new cloud-based service for policies and automation related to collecting reviews. The service, offered by review aggregation campaign company ecbeing, facilitates low-cost implementation, as the incentive fees and operations are all handled by ecbeing. ALLU expects the new service to improve conversion rates and customer loyalty, while reducing returns and otherwise encouraging online purchases. While online review functions tend to be afterthoughts in practice, 80% of consumers who make purchases have stated that the presence of reviews on products have influenced their purchase decision. Reviews have a strong impact on purchasing decisions, especially for high-priced products. A study conducted by Northwestern University in the U.S. (How Online Reviews Influence Sales) found a conversion of 3.8 times.
■ALLU Overview
ALLU is a used and vintage goods shop offering carefully curated secondhand high fashion brand items, including everything from street brands to luxury brand goods.
Location: ALLU Ginza (5-3-14 Ginza, Chuo-ku, Tokyo) ALLU Shinsaibashi (1-10-9 Chuo-Ku, Osaka City, Osaka)​
Official Online Store:
https://allu-official.com
instagram:@allu_onlinestore
株式会社 ecbeing
・Head Office: Shibuya Cross Tower, 2-15-1 Shibuya, Shibuya-ku, Tokyo, 150-0002​
・Representative Director and President:Masaya Hayashi​
・Business Lines: Providing comprehensive e-commerce business-related services such as e-commerce web development.​