An Industry-First* Home Appraisal Service​ Introducing the Hakkoudo Rakuraku Smart Appraisal​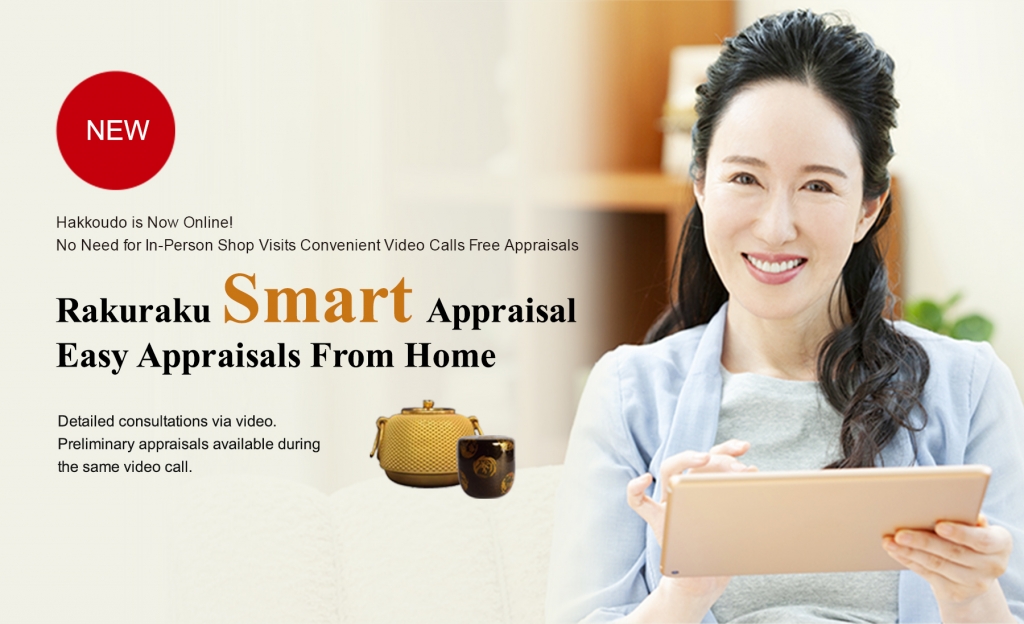 ​Now, customers have access to simple, yet serious, appraisals from the comfort of their homes and storerooms. ​
The Valuence Group offers life-changing value tailored to all stakeholders, encouraging every person in the world to live true to yourself. Valuence Group company Valuence Art & Antiques Inc. (Osaka, Japan; Shinsuke Sakimoto, representative director and president) today announced the launch of its new Rakuraku Smart Appraisal service, available beginning Friday, June 19, through the company's antique and art specialty store, Hakkoudo. This service will be the first-ever in the industry to allow customers to request appraisals from their homes or storerooms*.​
Real Appraisals, Available Online for the First Time Ever
With major lifestyle changes happening today, many industries are seen the wider adoption of telework and various online services. This trend is spreading not only to the tech-savvy generation, but also among seniors.
​
Capitalizing on this trend, Rakuraku Smart Appraisal, launched by Hakkoudo, will be the first-ever* online antiques and art appraisal service in the industry. Many customers have refrained from unnecessary travel outside their homes. Others are concerned about visiting a purchasing office in person, requesting in-home purchasing, or asking for consulting related to inheritance, life planning, estate liquidation in connection with antiques and art objects. These customers can now enjoy peace of mind by receiving a serious appraisal of their goods from the comfort of their own homes.
Minimize the Risk of Damage or Deterioration; Request a Convenient Appraisal​
By using Rakuraku Smart Appraisal, customers can have an appraiser both evaluate their possessions and make a purchase offer via video call from over mobile phone or PC, all from the comfort and convenience of home. Since the entire appraisal takes place over PC or mobile phone camera, there's much less risk of damage or deterioration that could occur when an item is moved physical between locations. Of course, the customer can sell their item from home as well. An appraiser will visit the customer's home, and after confirming the condition of the product, etc., provide the payment on the spot or have it transferred to the customer's designated account.​
Rakuraku Smart Appraisal Aims to Adopt the Latest Technologies to the Antiques and Art Industries​
For most of its history, the antiques and art industries have involved in-person transactions. Over the past few years, the industry has finally began to adopt modern technology as seen in virtual online museums and blockchain for artwork certification. In addition to launching Rakuraku Smart Appraisal, Valuence Art & Antiques has decided to shift its auction for art sellers in Japan, THE EIGHT AUCTION, completely online. The new format is expected to be operational in July 2020. The Valuence Group will continue to accelerate the use of IT and technology in every area of its business, striving for modern services that meet the times.​
■Rakuraku Smart Appraisal Overview​​
・Availability: Japan (nationwide)​
・Business Hours: 10:00 to 18:00​
・Eligible Categories: Antiques, art objects, modern art, etc.​
​・Contact: 0120-29-8510
・URL:
https://www.hakkoudo.com/smart-satei/
​