Nanboya's First Office Arrives in Nagano Prefecture! Opens December 10 in the Nagano Tokyu Department Store!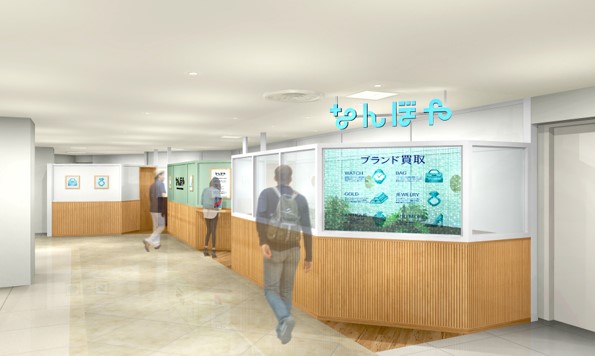 The Valuence Group offers life-changing value tailored to all our stakeholders, encouraging every person in the world to live true to yourself. Valuence Group company Valuence Japan, Inc. (Headquarters: Minato-ku, Tokyo; Representative Director and President: Susumu Muguruma) has announced that luxury brand item buying business Nanboya will open the NANBOYA Nagano Tokyu Department Store, its first in Nagano Prefecture, on December 10. 2020.​​
Breaking Ground in Nagano Prefecture! ​Nanboya's Third Location inside a Department Store!
Nanboya is a series of buying offices proposing a cycle of reuse for luxury branded goods such as watches and bags, as well as precious metals and jewelry, where customers sell these possessions once they are no longer needed.
​​
The newly opened NANBOYA Nagano Tokyu Department Store marks Namboya's first foray in Nagano Prefecture. Nagano Tokyu Department Store is directly connected via underground passage to JR Nagano Station, in a strong location with excellent access within Nagano Prefecture. In this region, despite the presence of a car society, commuting to school and work via public transportation remains popular. Furthermore, the 3rd floor of the department store's main building, where the office is to open, is connected to the annex by a connecting passage. This offers high accessibility and immediate visibility to customers who may not yet know what Nanboya is.
​ This is Valuence's third Nanboya to open in department stores, following Kintetsu Department Store Kusatsu and Usui Department Store Koriyama. It becomes the sixth to open in department stores among Nanboya and its sister brands, after BRAND CONCIER's Matsuzakaya Ueno, Matsuzakaya Nagoya, and Matsuzakaya Shizuoka locations. ​​​
Going forward, Valuence will continue to open offices in department stores and commercial facilities nationwide, increase the number of touch points with more customers, and propose a lifestyle of reuse.​​​
■New Office Information
・Office name: NANBOYA Nagano Tokyu Department Store​
・Grand opening: Thursday, December 10, 2020​
・Business hours: 10:00 AM to 7:00 PM​
・Phone: (+81) 0120-66-1333
・Address: 1-1-1 Minamichitose, Nagano City, Nagano Prefecture ​Nagano Tokyu Department Store Main Building 3F​
・Official Website:
https://nanboya.com/
(店舗HP:
https://nanboya.com/shop/nagano-tokyu-brandshop/
)​
Prevention Initiatives Against COVID-19 
​
At Nanboya, we are implementing measures to prevent the spread of COVID-19, such as installing droplet-blocking partitions, so that customers who come to our office can enjoy our reuse service with peace of mind.​