Nanboya Breaks Ground in Bangkok, Thailand!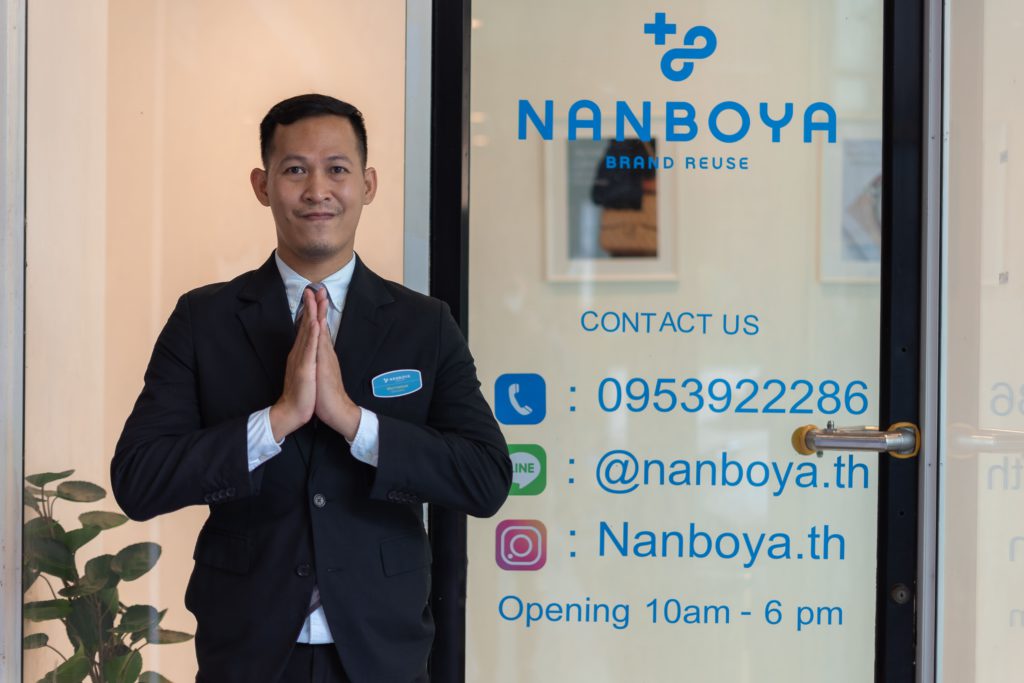 Thailand Becomes Nanboya's Fifth Southeast Asian Nation as it Brings More Offices to the World​​​
The Valuence Group offers life-changing value tailored to all our stakeholders, encouraging every person in the world to live true to yourself. Valuence Group company Valuence International Limited (Headquarters: Hong Kong SAR, People's Republic of China, Representative Director: Susumu Muguruma) has announced that luxury brand item buying business Nanboya has expanded into Thailand. Its first office here, the NANBOYA Thailand Thonglor Office, will newly open on Monday, January 18, 2021.​​
Bangkok Becomes the First Home of Nanboya in Thailand – a Launchpad for Building Brand Awareness in Southeast Asia​​​
​Thailand and Japan are known for their strong mutual affinity, with many Japanese companies present in the country and broad popularity of prevalent Japanese products and services. Thailand also features a pervasive reuse culture, and high-quality reused Japanese items – with the taglines of "From Japan" or "Japan Quality" – are more desirable among consumers. ​​
Now, our new Thai location will be the NANBOYA Thailand Thonglor Office, the latest in the Nanboya brand item ​ purchase chain. Nestled in a shopping mall in the Thonglor district, we will use this office to target expatriates residing in the area, local wealthy persons, and businesspersons occupying nearby offices.​
​
With this new opening, we will bring Nanboya's unique flavor of customer service with the utmost courtesy to our guests, befitting the memories they have of their treasured items. The new Thonglor location will also be our springboard to realizing a recycling society in Thailand founded in reuse, following similar efforts launched in Singapore, Indonesia, and the Philippines.​
Nanboya Locations to Grow Overseas, Seeking to Achieve VG1000 Plan Goals​​​
Our first office in Thailand, like in others established in Southeast Asia, was opened in an area with luxury residential neighborhoods inhabited by expatriates and wealthy locals. Our strategy is to begin by capturing customers with a naturally high affinity to Nanboya as we work toward opening our second office in Thailand.​。
The Valuence Group is actively working to open Nanboya offices overseas in order to achieve its medium-term management plan, VG1000. Looking ahead, we are targeting greater expansion of our business, like launching purchasing operations in New York City, London, and other areas of the US, UK, and Europe.​
■Buying Office Overview​​​​
The NANBOYA Thailand Thonglor Office is located on the 1st floor of Thonglor's 9:53 Community Mall shopping center. It is situated at a famous meeting spot with great visibility, making it possible to approach mall users of all ages by taking advantage of its location's unique advantages.​
​・ Office name: NANBOYA Thailand Thonglor​
・Location: Unit A 101, 124 Soi Sukhumvit 53, Thonglor Rd, Khong Tan Nuea,Watthana, Bangkok 10110, Thailand​
・ Grand opening: Monday, January 18, 2021
​ ・ Business hours: 10:00 to 18:00 (local time)​
・ Eligible items: Watches, bags, jewelry, accessories​
・ Language support: Thai, English​
・Facebook:
https://www.facebook.com/nanboya.th
(@nanboya.th)​
​ ・Instagram:
https://www.instagram.com/nanboya.th/
(@nanboya.th​)