NANBOYA Watch Repair Workshop Services Expanding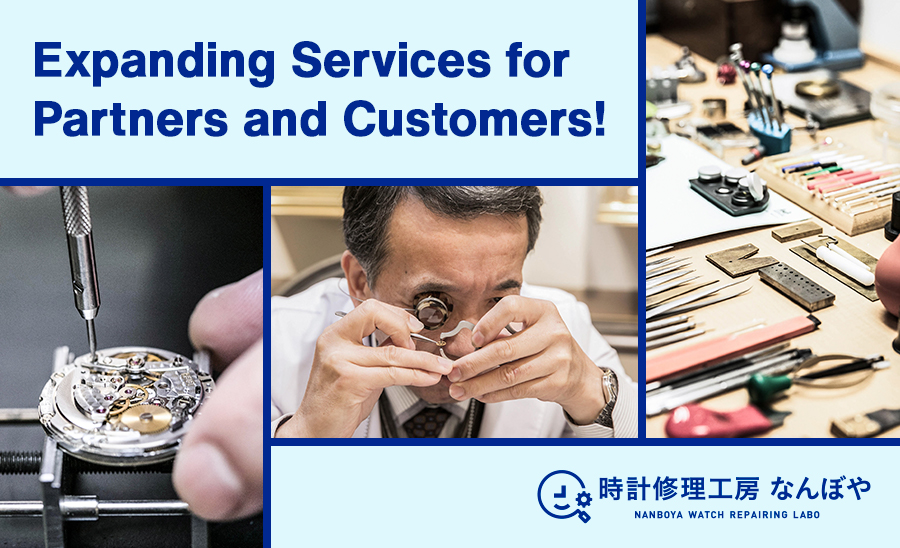 New Services for STAR BUYERS AUCTION Partners, Watch Repairs Now to be Accepted via Delivery Service for General Customers! ​​
The Valuence Group offers life-changing value tailored to all our stakeholders, encouraging every person in the world to live true to yourself. Valuence Japan Co., Ltd. (Headquarters: Minato-ku, Tokyo; Representative Director and President: Susumu Muguruma), a group company of the Valuence Group which is striving to build a global presence, has announced that on January 22nd, 2021, it is launching a watch repair service for partners of its STAR BUYERS AUCTION brand item auction service. Further, on January 27, 2021, it will begin processing watch repair requests from the general public via delivery service.​​​
Businesses Expanding, Offering Services to Meet Needs​​
Since launching NANBOYA Watch Repair Workshop to the general public in 2017, Valuence Japan has been accepting repair requests from customers at one of the more than 100 NANBOYA brand purchase locations. This popular service is steadily expanding in size, with more than 16,000 repairs in 2019. As part of further service expansion, Valuence Japan will also start providing watch repair services to partners of the STAR BUYERS AUCTION luxury brand goods auction operated by the company. With this, the company will provide new services beyond auctions to partners without their own watch repair workshops, seeking to increase satisfaction and acquire new touchpoints with partners.​​​​
In light of the recent situation where people are forced to refrain from going out, the company will also begin accepting repairs via delivery service for the general public, a new initiative designed to meet customer needs to request watch repairs from the comfort of their own homes. Valuence will continue to provide more customers with its highly precise watch repair technology, a point of pride for the Group.​​​​
Bringing Repair Services Closer, and Making Lifetimes Longer for Treasured Watches​​
The Valuence Japan-operated NANBOYA Watch Repair Workshop boasts a number of talented technicians from famous manufacturers and major repair companies among its ranks, providing high-quality watch repair services handled wholly in-house. With this service expansion, Valuence will not only provide repairs to the general public regardless of whether they have plans to sell their items, but will also accept repairs from STAR BUYERS AUCTION partners, whether it be for a product purchased at auction or not. These new initiatives will strengthen connections with a variety of target customers via a watch repair workshop that handles customers' treasured watches offers ease of use and peace of mind.​​​
​ Going forward, the company will continue to provide services carefully tailored to each customer, striving to build greater trust relationships.​​
​
■ Service Overview​​​​​
​[STAR BUYERS AUCTION Members Exclusive Watch Repair Service]​​
​
・ Service start date: Friday, January 22, 2021​​
・Application method: A Watch Repair listing is to be added to the STAR BUYERS AUCTION member page.​ Partners will initially be informed via e-mail.​
・Eligible regions: Japan (nation-wide)​​
​[NANBOYA Watch Repair Workshop Delivery Service Watch Repair]​​​
​
・ Service start date: Wednesday, January 27, 2021​
・ Application methods: Packaging kits are available via application on the NANBOYA Watch Repair Workshop website.​​
・ URL (Japanese only):
https://nanboya.com/watch-repair/
​
* The page for accepting deliveries (
https://nanboya.com/watch-repair/takuhai/
, Japanese only) is to be published on January 27 ​
​・Eligible regions: Japan (nation-wide)​​