Improved Convenience in Nanboya's By-Mail Purchasing Service ​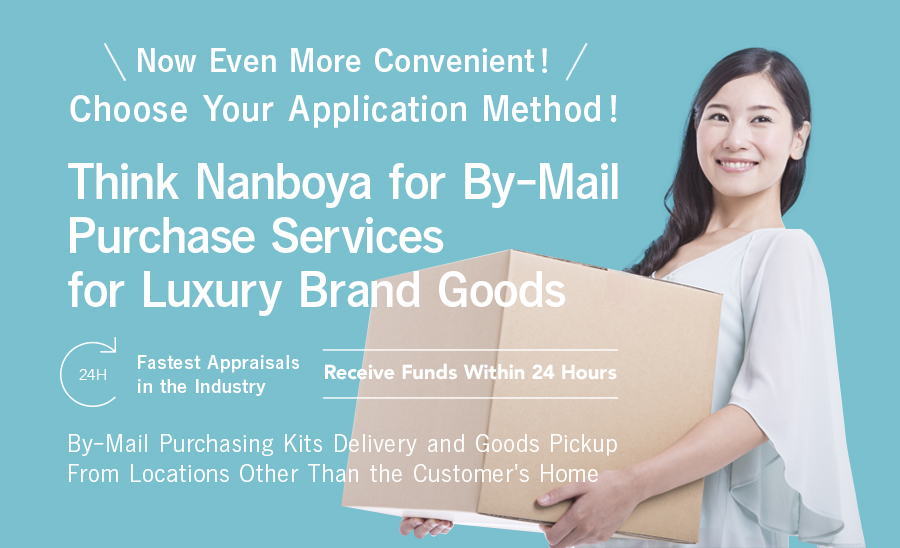 More Options for Application and Pickup for Greater Ease​​​
Aiming for global expansion, the Valuence Group offers life-changing value tailored to all our stakeholders, encouraging every person in the world to live true to yourself. Valuence Japan, Inc. (Tokyo; Susumu Muguruma, representative director and president), a member of the Valuence Group, today announced that luxury brand goods purchasing business Nanboya now features even greater ease and convenience for its by-mail purchasing service. The company updated its systems through Valuence Group sister company Valuence Technologies Inc. (Tokyo; Ryoji Fukaya, representative director and president) and also adopted the LIQUID eKYC system offered by Liquid, Inc. (Tokyo; Keiki Hasegawa, representative director and president).​​
Now With Easier Application, Customer Page Login, and Collections Processes
Luxury brand goods purchasing business Nanboya offers by-mail purchasing services allowing customers to request appraisals and the purchase of luxury brand watches, bags, accessories and other items they wish to sell–all from the convenience of their own home. This service has been particularly well received by individuals who live distantly from Nanboya buying offices, or whose plans and number of articles make it difficult to visit a Nanboya buying office in person.​
Demand for this service has only increased with restrictions on unnecessary travel due to the COVID-19 pandemic. ​ Now, Nanboya has upgraded its application process, customer page login, and ID verification methods, making the experience even more convenient for customers. As of February 26, customers can select where to have by-mail purchasing kits sent, collection locations, and other options when using the Nanboya by-mail purchasing service.​
Nanboya will continue to strengthen its various purchasing channels, from in-office purchasing (with even more offices opening in the future) to by-mail purchasing, in-home purchasing, online purchasing, and more. ​
Point 1. Choose Application and Customer Page Login Method!​
​In the past, the Nanboya by-mail purchasing service required customers to register with an email address when applying. With this upgrade, courtesy of Valuence Group company Valuence Technologies, the Nanboya has simplified the application process, allowing customers to apply using a telephone number or by connecting their LINE account. Now, even customers who do not use email regularly have access to the purchasing service.​​
Application Screen (Concept Art)​
​
​
Point 2. New ID Verification Allows Selection of By-Mail Purchase Kit Destination and Pickup Location​​
When selling no-longer-used luxury brand goods, the seller must first prove their identity. In the past, Nanboya by-mail purchasing services required customers to provide personal identification documents (driver's license, etc.) at the time of application, and by-mail purchase kits and item pickup locations were based on the address provided in the documentation. With the new adoption of LIQUID eKYC from Liquid, Inc., the identity verification process has been completely revolutionized. Using the high-precision image matching technology of LIQUID eKYC to confirm the customer's ID online, the customer may now designate any location for the service (parent's home, office, new residence prior to official change of address, etc.).​​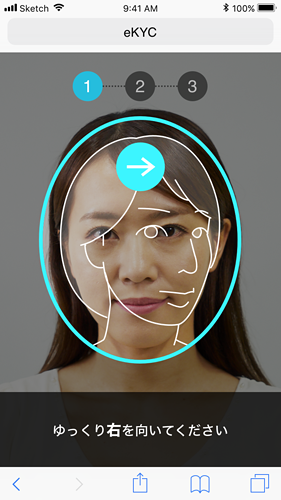 Image Matching (Concept Art)​
LIQUID eKYC​
System developed by Liquid, Inc. that allows users to verify their identity through comparison of photo ID and facial data.​​
*About Liquid, Inc.​​
​
Liquid aims to create a society in which the 7.7 billion people of the world can access any service simply and safely without complicated processes by using biometrics for authentication "in the air."
​ Liquid also provides a mechanism for cross-industry, cross-vendor fraud detection through online identity verification related to with financial transaction confirmations (Act on Prevention of Transfer of Criminal Proceeds), used goods purchases (Secondhand Articles Dealer Act), mobile phone contracts (Mobile Phone Improper Use Prevention Act), real estate transactions, C-to-C transactions, etc.​​