Nanboya to Start Painting and Wall Hanging Purchases in Singapore!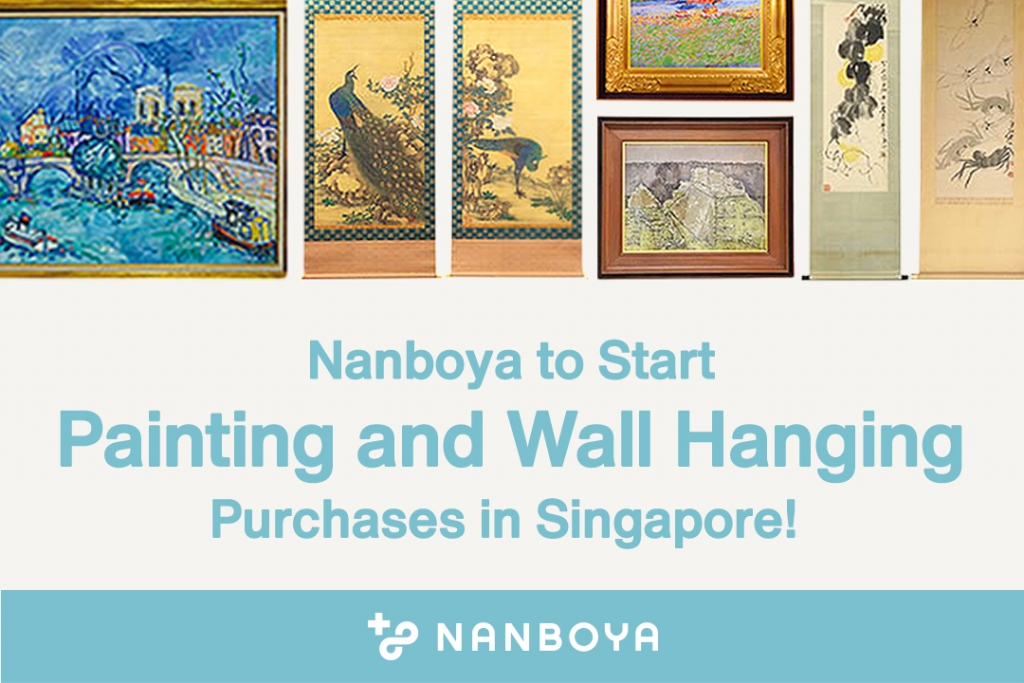 Purchasing Brand Expands Overseas Antiques and Arts Business
The Valuence Group offers life-changing value tailored to all stakeholders, encouraging every person in the world to live true to yourself. Valuence Group company Valuence International Singapore Pte. Ltd. (Singapore; Antonio Lei, representative), has announced that luxury brand goods purchasing business 「Nanboya」will begin purchasing paintings and wall hangings on December 28, 2021. With this new initiative in Singapore, the Nanboya brand will consider the purchase of antiques and art works at other overseas locations in the future.
Luxury Brand Business Nanboya Expanding Into Antiques and Art, Beginning With Singapore
Valuence International Singapore's Nanboya luxury brand goods purchasing business operates two locations in Singapore, where the second-hand goods and reuse industry is already well established. Nanboya concierges (appraisers) have a wealth of knowledge in across a wide range of product categories, providing in-depth explanations and polite customer service that emphasizes dialogue with customers. This Nanboya style of service has become very popular with local customers. In October 2021, Nanboya began an in-home purchasing service, which allows customers to sell their items from the comfort of their homes. This service is designed to meet the needs of customers who find it difficult to visit purchasing offices in person for various reasons. Aiming for the global expansion of the antiques market, said to be US$50.1 billion, Nanboya is launching its antiques purchasing business model for the first time outside Japan, beginning with Singapore, the hub of the Asian antiques market.
Moving Faster Toward Circular Societies Through New Reuse Touchpoints
Nanboya will begin antiques purchasing in Singapore, starting with paintings and wall hangings. Next, the company will set its sights on new categories that reflect the needs of the local community. As with the sales of personal luxury brand goods, customers can choose from in-office or in-home services. Local staff will be available to respond to any customer needs. Given the small one-hour time difference with Japan, Nanboya believes it can provide high-quality support, working in cooperation with antique specialists in Japan.
For Singaporeans who have not yet experienced Nanboya's services, the business intends to promote interest and curiosity around the key word of antiques, aiming to spread reuse culture in the country. Beginning with these new purchasing categories in Singapore, Nanboya will consider expanding its purchase model for antiques and art to countries around the world, accelerating Valuence Group efforts to create circular societies.
Nanboya Buying Offices in Singapore
Nanboya China Town
Address: 198B South Bridge Road, 3F, Singapore 058747
Business hours: 11:00 to 19:00 (local time)

Nanboya Orchard
Address: 111 Somerset Road Unit #02-10, 111 Somerset, Singapore 238164
Business hours: 11:00 a.m. to 19:00 (local time) *Closed only over the two-day Chinese New Year holiday

In-Home Purchasing Service
Application methods: In-office, online (via WhatsApp, Facebook Messenger, and Calendly)
WhatsApp:https://wa.me/message/P6NS3OWGVH4LL1
Facebook:https://www.facebook.com/nanboya.sg
Calendly:https://sg.nanboya.global/#elementor-action%3Aaction%3Dpopup%3Aopen%26settings%3DeyJpZCI6IjI3NjE5IiwidG9nZ2xlIjpmYWxzZX0%3D