ALLU, a Used and Vintage Goods Shop, has Launched Live Commerce for the Japanese Market! ​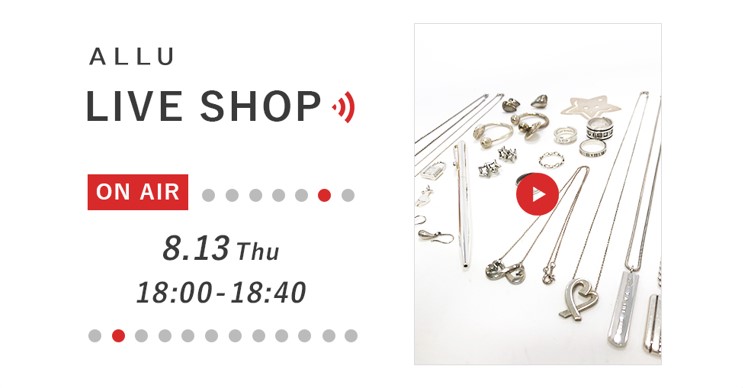 ALLU LIVE SHOP will begin livestreaming on Thursday, August 13th, introducing Tiffany accessories available for as little as 3,000 yen!​
The Valuence Group offers life-changing value tailored to all our stakeholders, encouraging every person in the world to live true to yourself. Valuence Group company Valuence Japan Inc. (Tokyo; Kei Fujita, representative director and president) today announced that its ALLU business will commence live commerce for the Japanese market. ALLU is a used and vintage goods shop owned and operated by Valuence Japan. The ALLU Ginza location will begin livestreaming Tiffany accessories at 18:00 on Thursday, August 13, 2020.
Strong Performance of Live Commerce for China
With the spread of COVID-19, inbound demand at ALLU offices has slowed, while the shift to online consumption accelerated worldwide. ALLU began live commerce in January of this year through Chinese influencers and live buyers. ALLU products streamed and sold on major platforms such as Taobao have been well received by customers in China, who are unable to visit Japan. At the same time, inquiries from sale-side live buyers have increased. Livestreaming of ALLU products increased from twice a month at the outset to 15 times in July.
Now, ALLU has decided to begin live commerce for the Japanese market through its ALLU LIVE SHOP, a dedicated live commerce page at the ALLU online store. In this way, both overseas customers and Japanese customers can enjoy shopping online with confidence. ALLU will continue to provide new shopping environments in line with the times, and will strive to expand services that are safe and convenient for customers. ​
Special feature on Tiffany accessories, available at prices from 3,000 yen!
"Wearing a mask every day makes me want to try more fun fashion accessories!" The first ALLU live commerce stream will feature Tiffany accessories, carefully curated by ALLU staff. Prices begin at 3,000 yen. During the live stream, ALLU Ginza shop staff will answer questions about products in real time. To commemorate this first livestream, three customers purchasing a product through ALLU LIVE SHOP will be selected to receive an ALLU original stainless steel bottle, an essential accessory for a sustainable lifestyle. ALLU encourages everyone interested in used and vintage items to join the livestream.​
Livestream date and time: Thursday, August 13, 2020, 18:00 to 18:40​
Watch at the following URL:
https://allu-official.com/shop/pages/live.aspx?live_id=3I8eTmopQNbakXpYO1qP
​
■ALLU Overview​
ALLU is a used and vintage goods shop offering carefully curated secondhand high fashion brand items, including everything from street brands to luxury brand goods.
Location: ALLU Ginza (5-3-14 Ginza, Chuo-ku, Tokyo)​ ALLU Shinsaibashi (1-10-9 Chuo-Ku, Osaka City, Osaka)​
Official Online Store:
https://allu-official.com
instagram:@allu_onlinestore
​