ALLU Introduces New Services Via the visumo Visual Marketing Platform​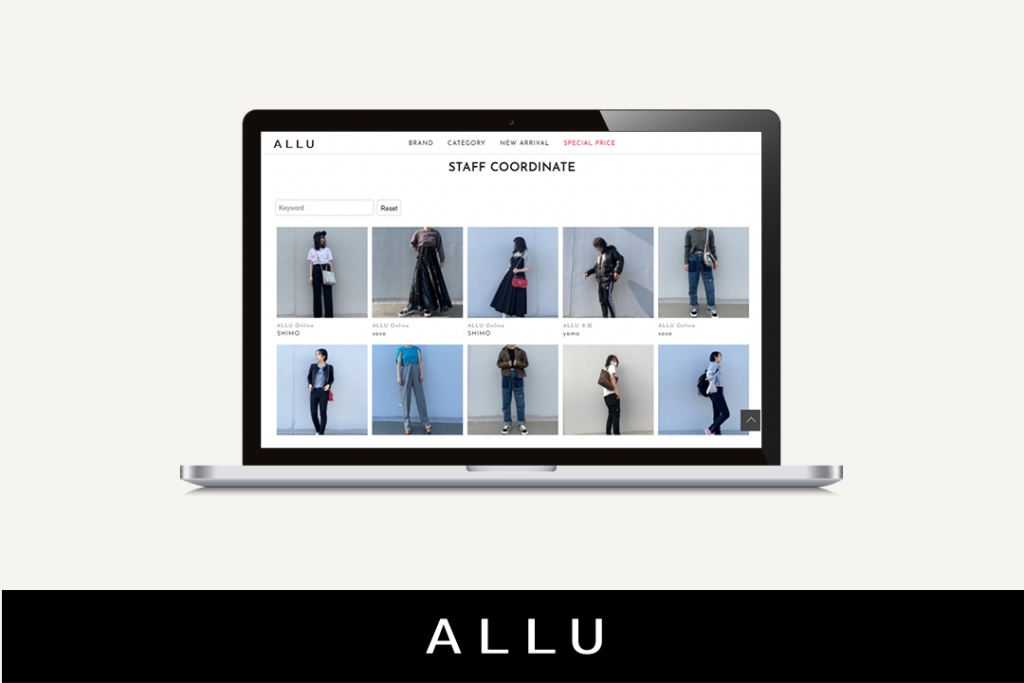 Leverages videos and staff comments to strengthen customer service in e-commerce​​​​​​​​​
​
The Valuence Group offers life-changing value tailored to all our stakeholders, encouraging every person in the world to live true to yourself. Valuence Group Company Valuence Japan, Inc. (Headquarters: Minato-ku, Tokyo; Representative Director and President: Susumu Muguruma) has announced that it has introduced the new visumo solution, a visual marketing platform provided by visumo Inc. (Headquarters: Shibuya-ku, Tokyo, Representative Director and President: Masaya Hayashi) in the e-commerce website of the Valuence-owned and operated ALLU, a used and vintage goods shop.​​
Designing a website offering greater peace of mind in purchasing high-quality reuse items​​​​​​​​​
Since opening its first store in 2016, used and vintage goods shop ALLU has operated in a mixed storefront and e-commerce website model, offering enhanced services like back-ordering and its ONEGAI ALLU service, where ALLU searches for the customer's desired merchandise on their behalf.​
Now, ALLU has introduced new solutions from visumo, adding functionality like content distribution using staff outfit coordination and customer service videos as well as staff comments on merchandise. Valuence will continue to enhance ALLU's appeal as a way for customers to feel the attraction of reuse items and to purchase high-priced merchandise with peace of mind.​
New Service #1 ​Outfit coordination content from storefront and online shop staff​​​​​​
Staff can use visumo's new media posting function to create and provide outfit coordination tips on the website. This content avoids the traditional purchase flow of choosing categories and areas to narrow down merchandise, allowing users to find new favorites while referencing staff coordination tips. By clicking or tapping the merchandise shown, users can immediately reach the information they need for purchasing.​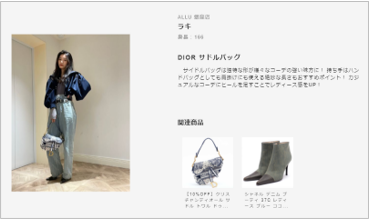 New Service #2​ Video commerce content utilizing staff customer service videos​​​​​
​These Staff Movies use visumo's new Video Commerce function. These videos are distributed to users to inform them about new merchandise discoveries by storefront and online shop staff, and to offer deeper knowledge about brands and merchandise. Clicking or tapping a video of interest opens a modal window where users can play the video and see the merchandise it presents.​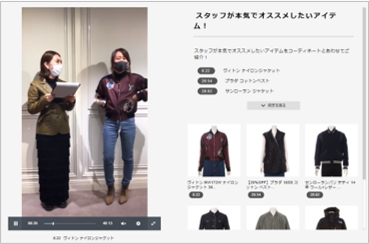 New Service #3​ Staff merchandise recommendations on product pages​​​​​
Product detail pages offer lots of information necessary for deciding on a purchase. Using visumo's new Media Posting function, merchandise comments entered by different staff members can be published on these pages, providing information aiding peace of mind in purchasing high-priced merchandise. Other functionality also enables display of staff styling posts on product pages, which in tandem with merchandise comments support the user's purchases.​