Nanboya's Online Appraisal Rolls Out Nationwide!​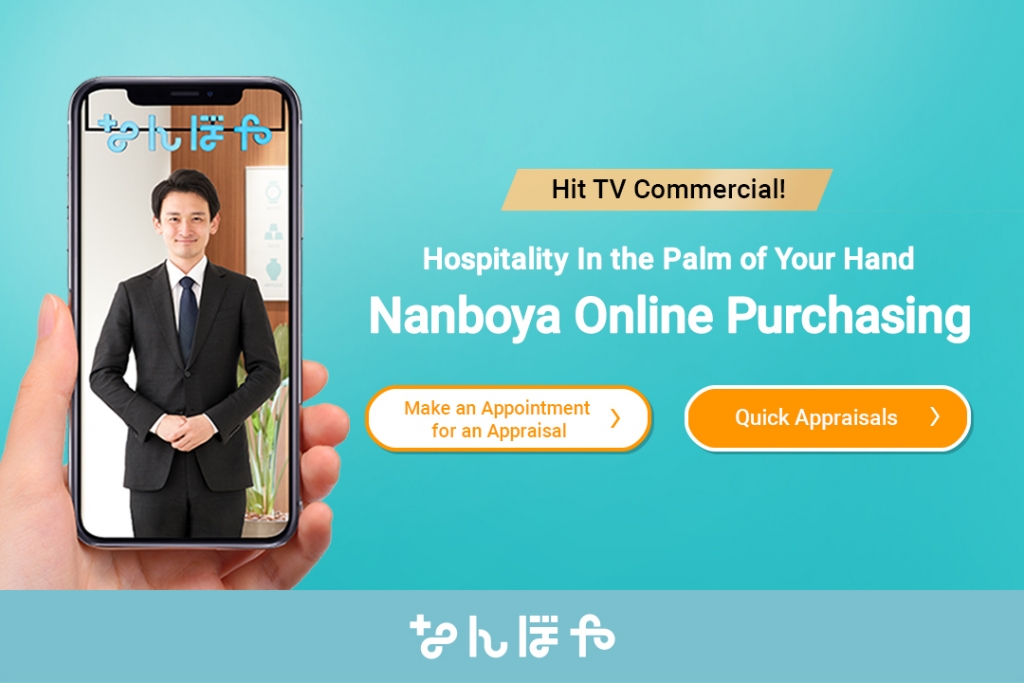 An easy, at-home process; Nanboya boosts safe, secure online purchasing ​
The Valuence Group offers life-changing value tailored to all stakeholders, encouraging every person in the world to live true to yourself. Valuence Japan, Inc. (Tokyo; Representative Director and President: Susumu Muguruma) has announced that as of September 1, 2021, it has implemented its online appraisal system at all domestic Nanboya brand purchasing offices at once and expanding its support for customers. Valuence has taken this action to accelerate safer, more secure online purchases in the midst of the COVID-19 epidemic.​
Accelerating and Strengthening Safer, More Secure Online Purchases ​​
​ Nanboya is a series of more than 100 purchasing offices across Japan and overseas, specializing in the purchase of luxury brand goods such as watches, bags, jewelry, and precious metals. In May 2020, in response to the spread of COVID-19, Nanboya launched an online purchasing service that allows customers to get easy appraisal of their items via video call from the comfort of their homes. Since then, we have continued to promote digital transformation and expand touch points with customers as a tool to provide a more accessible reuse experience. ​
Now, in the yet-unpredictable COVID-19 pandemic, we have rolled out our online assessment system for all Nanboya offices in Japan to make online purchasing easier. As a result, concierges at Nanboya offices nationwide will be able to offer online purchases to our customers, expanding our ability to support customers and providing safe, secure, and smooth assessments and purchases at customers' convenience. ​
The Valuence Group will continue to explore the potential for building mechanisms for reuse experiences founded in the needs for contactless purchase services, and work to expand purchase services and spread reuse. ​
■Nanboya Online Purchasing Features​​

■Nanboya Online Purchasing: A How-To​
1.Nanboya Online Purchasing: A How-To
Applications are accepted from Nanboya's online purchasing website (
https://nanboya.com/quicksell/
) (Japanese only).Enter customer information and the desired date and time to book an assessment. Or, use our instant assessment function to begin the process without prior reservation.​
2.Install the video call application
Install our calling app after authenticating via text message.​
3.Receive the booking URL​
Once the reservation is complete, a text message will be sent with instructions for the day of the booking. The URL link is key to starting the assessment and should be kept in a place where it can be easily found.​
4.Access the URL and begin the online purchase experience! ​
At the time of their appointment, access the URL provided and begin the online purchase. Use the video camera on the device to show merchandise to our concierge. Concierges offer the same level of customer service as in Nanboya's physical offices.​
5.Confirmation of purchase price​
Our concierge will present a purchase price after the assessment is completed. If satisfied with the price, shipping can be arranged through us to send merchandise to Nanboya.
6.Immediate payment upon arrival confirmation!
As soon as we are able to verify the merchandise shipped, we will deposit the purchase price to the designated account. ​​
*Some items may not be accepted due to Company regulations; these will be sent back to the customer.
■Overview of Nanboya Online Purchasing ​
・Eligible Regions: Japan, nation-wide ​
・Service Hours: 11:00~18:30
・Eligible Items: Watches, bags, precious metals, others
・Link to Service:
https://nanboya.com/quicksell/